How to buy Ethereum with a Credit Card on Binance?
Buy Ethereum with your credit card instantly on the Binance exchange. Learn how to purchase ETH with a credit card to trade cryptocurrencies.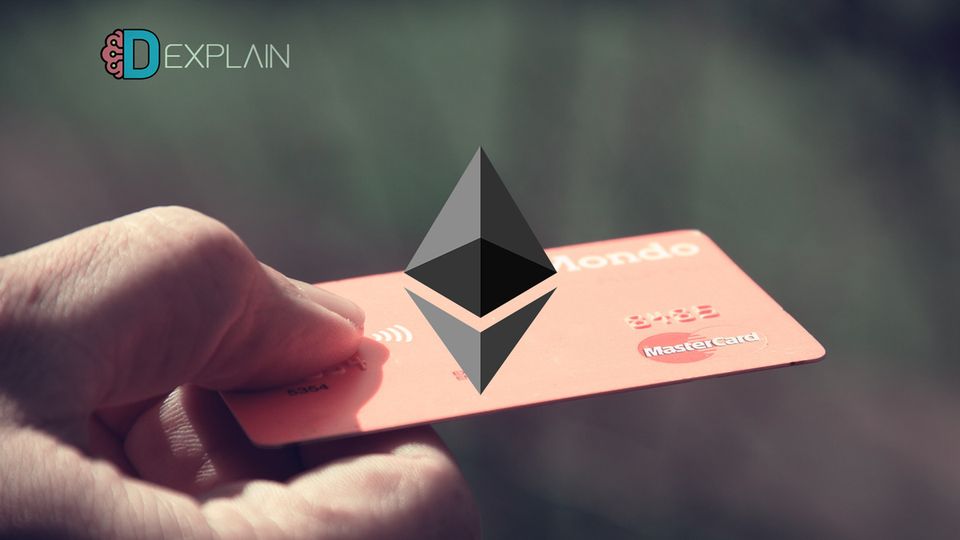 Binance is the leading cryptocurrency exchange on the market, making it easy to buy Ethereum with a credit card instantly. With over 500 different coins available, it is especially popular in the Altcoins trading world. Their cryptocurrency trading platform features some of the lowest trading fees while being a secure place to buy and sell cryptos and tokens. Binance also makes it very easy to buy Ethereum (ETH) with fiat currency, using your credit or debit card.
Alongside their own fiat gateway, Binance has partnered with notable third-party payment processors such as Simplex, Koinal, or Mercuryo. This ensures there is an accessible payment option regardless of your location. Purchasing Ethereum (ETH) on Binance with your card is also very easy thanks to their terrific user interface. You will be able to buy ETH fast on Binance, and enjoy some of the best rates on the market. Step one for trading crypto is to buy cryptocurrencies so it is in Binance's best interests to offer you the best rate. Otherwise, you may choose to trade elsewhere.
Before buying ETH with credit or debit card
Mastercard and Visa supported.
Minimum purchase amount starts at $50.
For the best available rate complete Know-Your-Customer (KYC) verification.
In this article, we will explain how you can buy Ethereum with your credit, debit card immediately on the Binance trading platform. Before we start, you will need to create an account – don't worry though account creation is free.
How to buy Ethereum with a credit or debit card
First you need to head over to binance.com (use our referral to sign up and receive rebates!), before you login. Always make sure you are on the right domain. Due to the cryptocurrency exchange's popularity it is a popular target for phishing scammers. Log in to your account and you will immediately see Buy Crypto at the top left followed by your currency. For this tutorial we want to buy Ethereum with a credit or debit card, using your fiat currency. There are two options that interest us: Credit/Debit Card or Third Party Payment.

What is the difference between the two payment options?
1. Credit/Debit Card (Binance Gateway)
The first option uses Binance's own fiat gateway (a payment processor). In our experience, this will give you the best rate for buying Ethereum (ETH) directly into your trading account if available for you. Note that you need to have completed the Personal Details verification level on your account. You can do this by clicking the User Center icon (on the top right), then Identification followed by clicking Verify to start the process. Generally, you can complete the verification process within 15 minutes as it is automatic.
The platform has restrictions on the card holder location. You can only use Visa if you are from the European Economic Area (EEA) countries, Russia, Ukraine and the UK.
Whereas you can use Mastercard payments in the following countries: Brazil, Colombia, Czech Republic, France, Germany, Indonesia, Italy, Latvia, Luxembourg, Mexico, Netherlands, Norway, Poland, Russia, Slovakia, Slovenia, Spain, Switzerland, Turkey, UK, Ukraine.
2. Third-party Payment (Mercuryo, Simplex, Koinal, BANXA)
If Binance Gateway is not available due to your card type, location or you do not want to verify your Binance account, then do not worry you can use a third party payment processor. To purchase crypto you will still need to provide some credit/debit card details, such as the card holder name and the issue country. So if Binance Gateway is available in your location it makes sense to complete the KYC on your account to use it. However, if you do not have the time to wait then the third party payment option is quick and efficient.
In the following example we have selected Credit / Debit Card from the Buy Crypto menu. The next steps are very similar, regardless of which payment processor you select, so do not worry if you decide to choose a different one. Once you have selected your payment option, the next menu will open: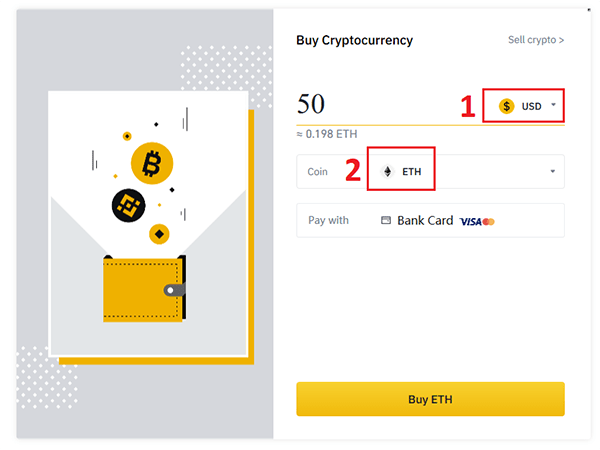 First choose the local fiat currency you want to pay with (in our case USD) and input the amount you want to spend. Remember the minimum amount will be $50.
Select the cryptocurrency you want to buy from the second dropdown menu. We would like to buy Ethereum so have selected ETH.
Click Buy ETH to move on to the next step.
You will now need to provide your card details to complete the transaction and receive your Ethereum directly into your Binance trading account.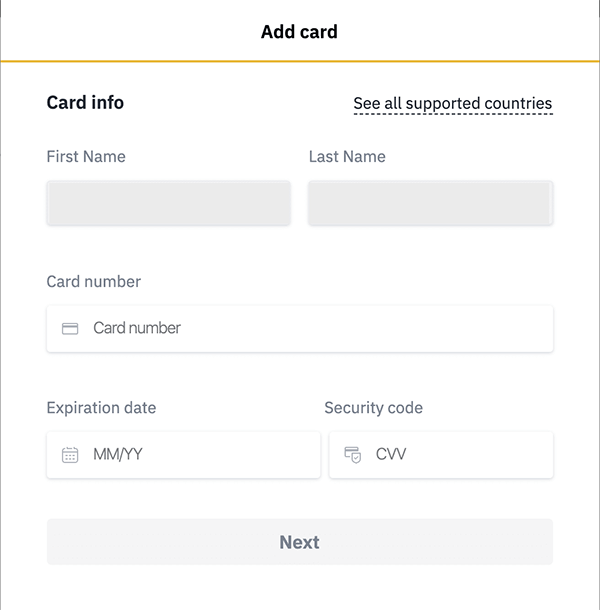 Fill in your name, card number and expiration date. The security code is the three digit number that is usually on the back of the card.
Click Next to proceed, where you will need to provide your billing address.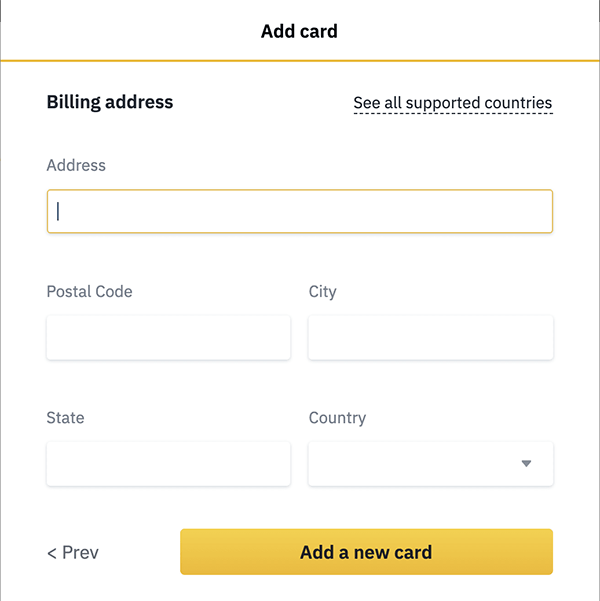 Now fill in the billing address details to match for your selected bank card. Take care when you enter your billing address as incorrect details will cause your payment to fail.
Click Add a new card to move on to the final step.
Final Step to buy ETH with your card
A final summary of your transaction to buy Ethereum with a credit card will appear. It will look similar to the following: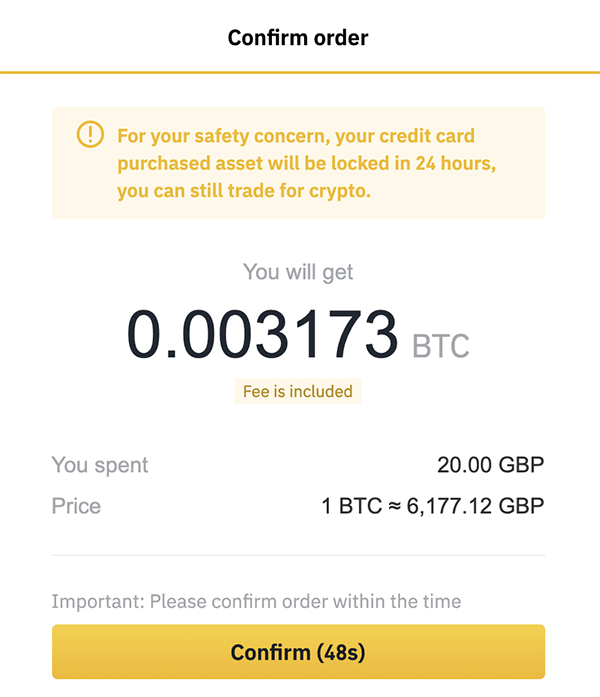 Make sure everything is correct and you are happy with the amount of Ethereum you are going to buy. You will only have a limited amount of time to confirm your order.
Click Confirm to initiate the transaction. One thing to note is that although you will be able to trade with other cryptos immediately, you will not be able to withdraw your ETH from the platform until 24 hours after the purchase.
To Conclude
Done! You now know how to buy ETH on Binance quickly using their fiat on ramp options. Your ETH will be available immediately in your trading account, meaning you can use it to start buying and selling other cryptocurrencies. As you may have already noticed during the process, using the dropdown menus you can choose to buy other cryptocurrencies such as Bitcoin (BTC) or even a stablecoin like USDT.