How to set up your 1 Hour Chart
Learn how to set up your 1 hour chart following our binance trading tutorial. Read our binance guide to improve your day trading profits.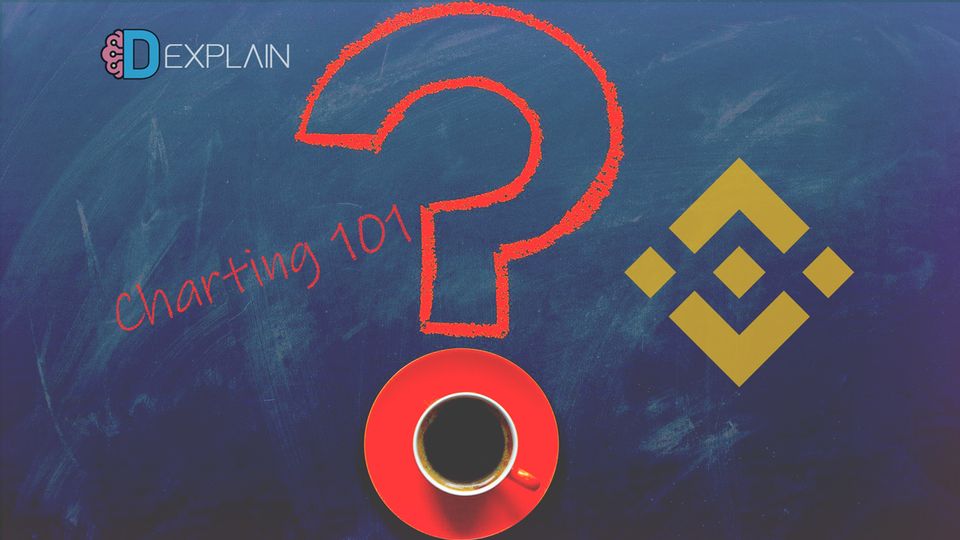 In a previous article, we looked at the best crypto indicators for day trading using a 1 hour chart. In this binance trading tutorial we will learn how to set up your trading interface to best suit a 1 hour chart trade strategy. Meaning we will learn how to display the RSI and MACD indicators. It can be a little tricky to navigate a new exchange interface, especially if you're a beginner. In this binance trading guide, we will go step by step with screenshots. Do not worry though, from our experience, most cryptocurrency exchanges follow a very similar user interface. Consequently, you can apply this tutorial to any alternative crypto trading platform.
For trading Bitcoin, Ethereum or other Altcoins off an hourly chart, I would recommend using a centralized exchange. Reason being that you need to ensure there is sufficient volume and trade activity to see regular price movements. Decentralized exchanges have definitely been growing steadily on the Ethereum network. But, as our 1 hour chart trade strategy will most likely result in numerous trades. We do not want to be penalized by network congestion or high transaction fees. There are, of course, ways to negate this and successfully make profitable trades on a decentralized exchange using an hourly trade strategy. However, this is something we will cover in future articles.
Binance Trading Tutorial: 1 Hour Chart
We will look at setting up your 1 hour chart on Binance, don't worry if you are already using a different exchange to trade. Most platforms all have the same functionality so you can still follow this trading tutorial. Also if you do not have a crypto trading account setup anywhere yet, make sure you read through our step by step guide of buying ETH (or other cryptos) instantly with a credit or debit card.
Why do we recommend Binance?
Binance is a great way to get started as they offer over 500 different trading pairs, along with an intuitive novice friendly interface. You can sign up on the Binance trading platform for free. They offer various ways to buy Ethereum with fiat currencies. Meaning, you can be ready to follow our binance trading tutorials within minutes.
Make sure you sign up with our referral link to receive 10% rebates on your trading fees!
Once you have created your trading account, decide and open the market you have decided to trade. To keep things easier to manage(and calculate future profit!), I would recommend trading on a stablecoin market pair such as BTC/USDT or ETH/USDT. First you will need to change the view to Advanced, as this will allow you to have access to all of the indicators. You then need to change your chart to use TradingView instead of Binance's own charting tools. We are now ready to learn how to set up your 1 hour chart.
If you get lost you can follow this screenshot: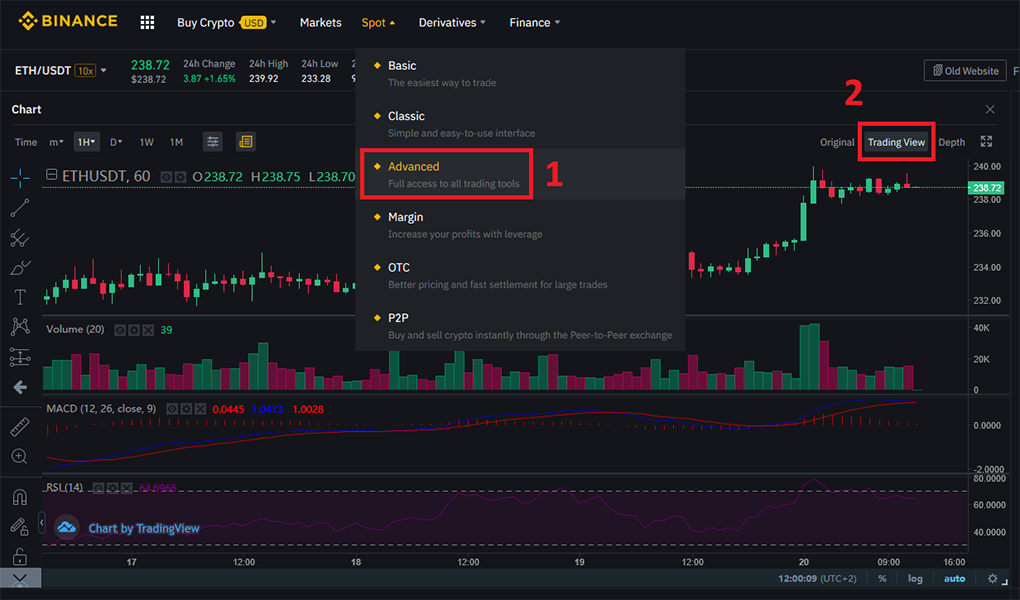 Once you have the chart being generated by TradingView, you just need to add your RSI and MACD indicator. You do this by clicking on the indicators icon just above the chart and searching for your desired indicator. Here is another screenshot you can follow: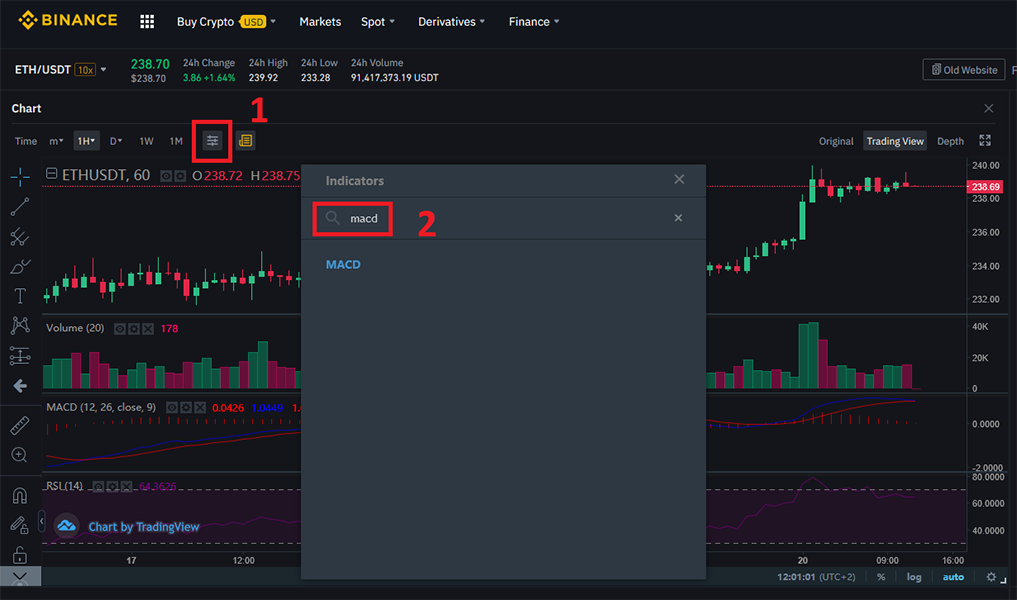 Once you have added both indicators, then you need to set your chart to display the trading data using the 1 hour chart time frame. Now you are ready to move on to the last step of this binance trading tutorial for setting up your 1 hour chart. To do this you just click on the time dropdown menu and select 1H. Here is a screenshot highlighting where to click: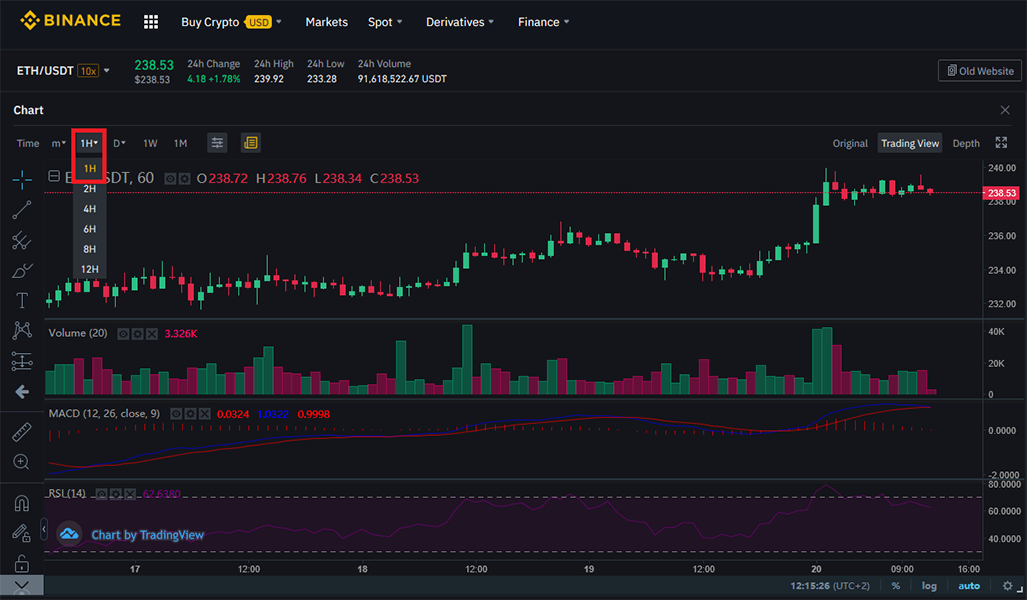 All done! I will be covering more indicators and how to use them on popular crypto markets in the future. If you enjoyed this tutorial, check out our follow up covering Stop Limit Orders. Be sure to create an account on the website to comment, and let me know what type of indicators you are successfully using for your cryptocurrency day trading strategies.
Take care and trade well.