Swipe Crypto Debit Card Review
Swipe Card Review: is this high cashback crypto debit card for you? Spend your Bitcoin instantly with Swipe's BTC debit card solution.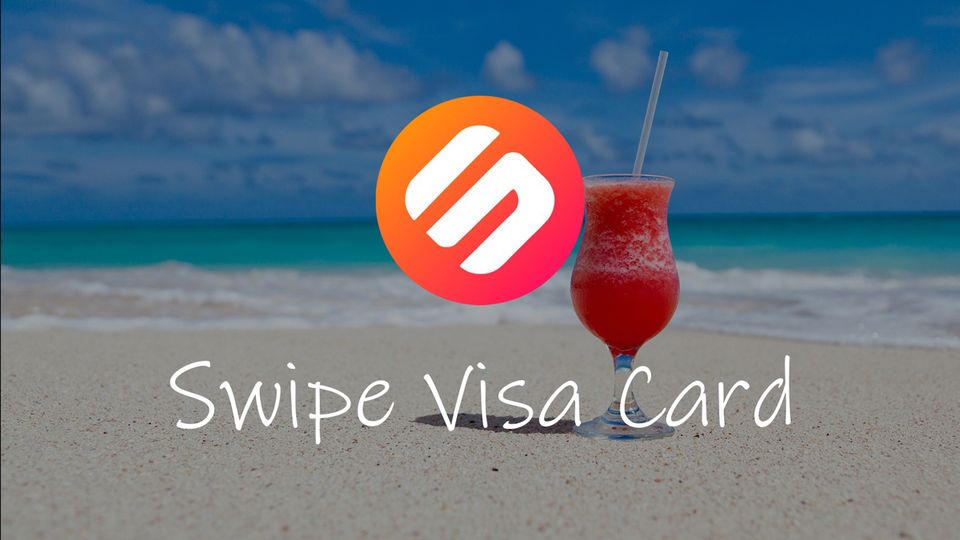 Swipe offers a wide range of cryptocurrency services with its multi-currency wallet, in-built instant exchange, fiat on-ramp for buying & selling crypto, and a crypto debit card. The Swipe Visa Card is particularly interesting as it enables users to spend cryptocurrencies directly with no manual conversion required. Here we will review the Swipe Card offering to see if it is the right Bitcoin debit card for you.
Note that during April-May 2021, Swipe decided to end its own offering for Swipe Card and migrate all its users to Binance Card (which it also powers). Both products are nearly identical, so we've kept this review up, but recommend you read our article about Binance Card.
What is Swipe Card?
Swipe and spend crypto! The idea is to provide the easiest way to start spending your cryptocurrency assets. As a result, Swipe is a custodial wallet where you do not control your private keys. This could be a turn off for certain experienced users who want to remain in control. However, for onboarding your family members and friends into crypto this could be the perfect wallet. Because the app works much like any modern-day banking app: sign up, set your password, and pass KYC verification. Meaning if you forget your password, your funds are not lost and you can reset your account.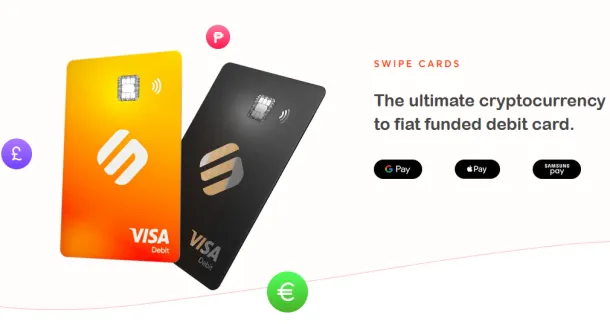 There are four different tiers of crypto debit cards to choose from, all offering you different levels of rewards and perks.
Here is how a Swipe Steel Card looks.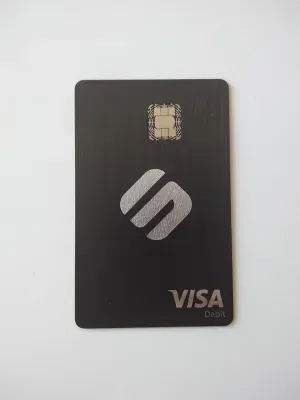 All of the card tiers offer you instant cashback in crypto, starting at 1% and going up to 8%. To access the higher rewards with one of the cards, the more SXP tokens you have to stake and lock up for at least six months. A great thing to know is that you also receive the cashback % when withdrawing cash via ATM, it's not just online purchases.
Swipe Card Review
Advantages
Strong choice for heavy Binance traders (no withdraw fees to Swipe Wallet).
Visa cards are supported pretty much worldwide.
4 different cards with a tier-based benefit model.
Spend crypto automatically, with no manual top-ups.
Up to 8% cashback in crypto.
No foreign transactions for certain tiers.
Rewards and benefits programs.
Google Pay, Apple Pay, and Samsung Pay
Available in the EU, UK, and USA.
No monthly fees, sign up fees, or purchase fees!
Exchange is commission free!
Disadvantages
Have to lockup SXP tokens to access the best rewards and cashback.
Foreign transaction fees are only free for Steel and Slate users.
A custodial wallet means you could lose access to your funds.
Project is still relatively new and changes things around A LOT (and vaguely!).
Hard to export history/usage for tax reporting purposes.
Mobile app is clunky.
Customer service agents seem to be outsourced so rarely know the answer to technical questions.
Funding Sources
The best thing about Swipe Wallet's Visa card integration is that you can truly call it a Bitcoin debit card. Or a crypto debit card! Meaning there is no manual conversion required beforehand to top up your card with fiat currency. All you have to do is specify which cryptocurrency you wish to use as the funding source, the rest is automatic.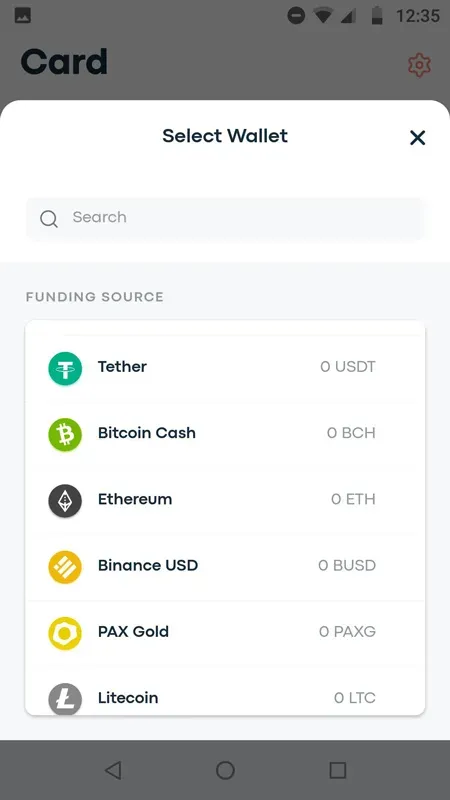 Currently, you find the many popular cryptocurrencies and stablecoins available as a funding source such as BTC, ETH, BNB, BCH, LTC, USDT, and BUSD. Additionally, you can also use your fiat balance (EUR, GBP, or USD) to fund your card.
Swipe Benefit Programs
The benefits you can receive from Swipe Visa Card depend on which cryptocurrency debit card tier you choose on signing up. There are four different cards available: Saffron, Sky, Steel, and Slate.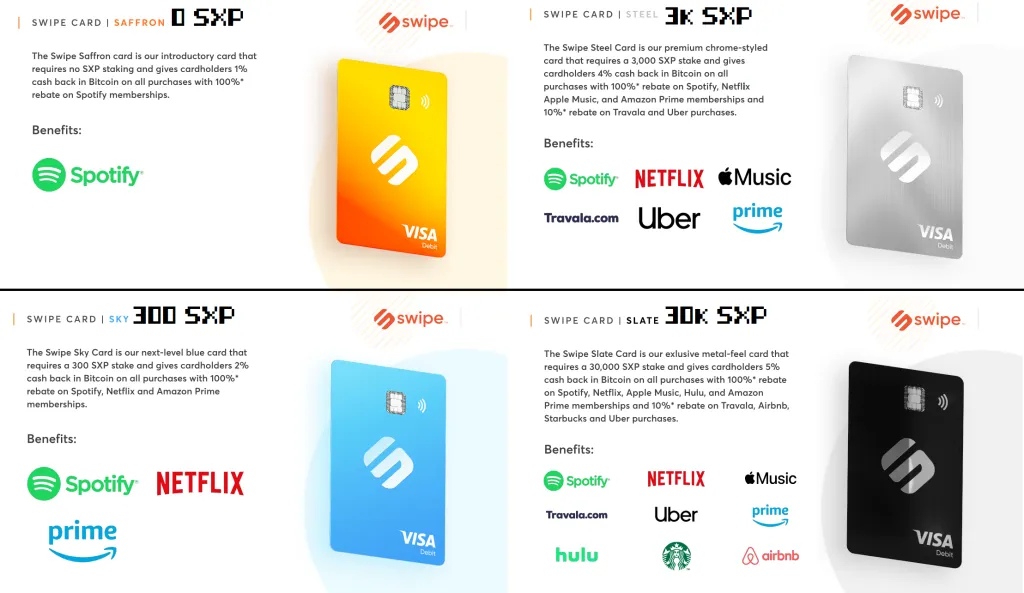 For Saffron users, there is no requirement to stake any SXP tokens. Of course, the rewards for the entry-level card are not as great with only a 1% cashback. You do also receive a rebate for Spotify up to $12.99 which means you can get Spotify Premium for free.
For Sky users, you need to stake 300 SXP and the cashback reward will jump up to 2%. Additionally, you will receive rebates for Spotify, Netflix, and Amazon Prime.
For Steel users, which requires a 3,000 SXP stake, you can earn a 4% cashback along with more rebates for popular apps such as Uber or Apple Music.
The highest Slate tier requires a 30,000 SXP lock up, at the time of writing that is roughly USD 28,000. It will earn you the highest 8% cashback level, access to more rebates, and the locked up SXP will earn on-chain staking rewards.
Swipe Card Fees
Right now there are no commission related fees added when using Swipe Wallet or its bitcoin debit card. It looks like a lot of fees have been waived as they're trying to aggressively expand their user base.
Current Fee Structure:
| Fee Type | Fee Amount |
| --- | --- |
|  Deposits |  Free |
|  Withdrawals |  Free |
|  Credit Card Purchases |  3.5% Fee Waived |
|  Buying, Selling, Spending Crypto |  Free |
As a result, you should keep checking their website for updates on card-related fees. Because fees can also change per the region you reside in. One thing to remember is that only Swipe Slate & Steel Cardholders pay no foreign exchange transaction fees. If you're planning to get the Saffron or Sky Card then foreign transaction fees can be up to 2%.
Spending limits can also vary greatly between the different crypto debit card types. For example, a Saffron Card is limited to a daily ATM withdrawal of only €100. Even the higher Slate tier is limited for cash withdrawals to €290 daily. So this may not be the greatest Bitcoin debit card for users who prefer spending in cash. However, the daily purchase limits are much higher.
Summary: Highest Cashback BTC Debit Card?
If you want to be able to spend your cryptocurrency assets instantly and freely for everyday expenses, then this is a perfect crypto debit card for you. No need to remember to top up the card before going out is a huge plus. Additionally, if you're happy to take exposure to the SXP token then you can receive the highest cashback in the industry.
Another positive is that Swipe is owned by Binance, and involved with the development of Venus Protocol on Binance Smart Chain. What this means is that Swipe Wallet users may soon have in-built access to DeFi products such as earning interest on their stablecoins. That being said, Swipe's announcements seem to quickly change with multiple backtracks already in their roadmap history. They brush this off by saying that they're listening to community feedback, but to outsiders, it can appear they do not know what their mission plan should really be!
Yes, you do have to buy and lock your SXP tokens up for the best cryptocurrency debit card cashback. Potential users should also note that SXP's price is extremely volatile, meaning accessing the benefit programs can be riskier than the reward. However, SXP is a deflationary token by design so if the ecosystem does grow more tokens will be burnt and the price should go up. Swipe also powers the upcoming Binance Cards, which seems to surely indicate that the SXP ecosystem will grow.
How to sign up?
Believe the Swipe Visa Card is the right option for your crypto debit card? Recently, Swipe decided to stop sign ups and migrate its users to Binance Card. As it powers both, the offerings are near identically so we recommend checking out Binance Card here.
If not? Check out our other crypto card reviews.