Binance Visa Card Review: High Cashback BTC Debit Card?
Binance Visa Card Review: High Cashback BTC Debit Card? Spend crypto instantly from your Binance exchange account with a crypto debit card.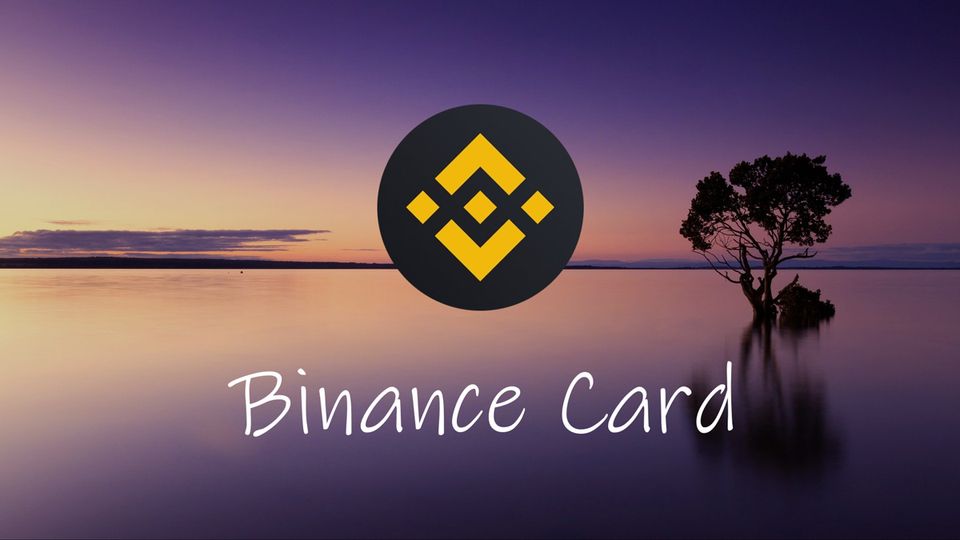 Binance Visa Card enables users to instantly convert and spend cryptocurrencies at the point of sale. No need to manually top up your crypto debit card balance or pay excessive network fees. Read through our Binance Visa Card review to discover the benefits of their high cashback bitcoin debit card. And decide if it is right for you!
What is Binance Visa Card?
Currently available to EU based residents, the Binance Visa Card lets holders spend crypto without any barriers. It's very easy to sign up and go through the exchange's verification process in a couple of minutes. If you're already a regular Binance user then it's just a couple of clicks to order your Visa card. One of the main benefits of this BTC debit card is that it links in easily to the whole Binance ecosystem. As a result, there is no separate account or app needed for managing your Binance Visa Card funds. Meaning you can move funds from your Spot Account or rewards from staking coins in the Launchpool instantly over, and be spending them in minutes!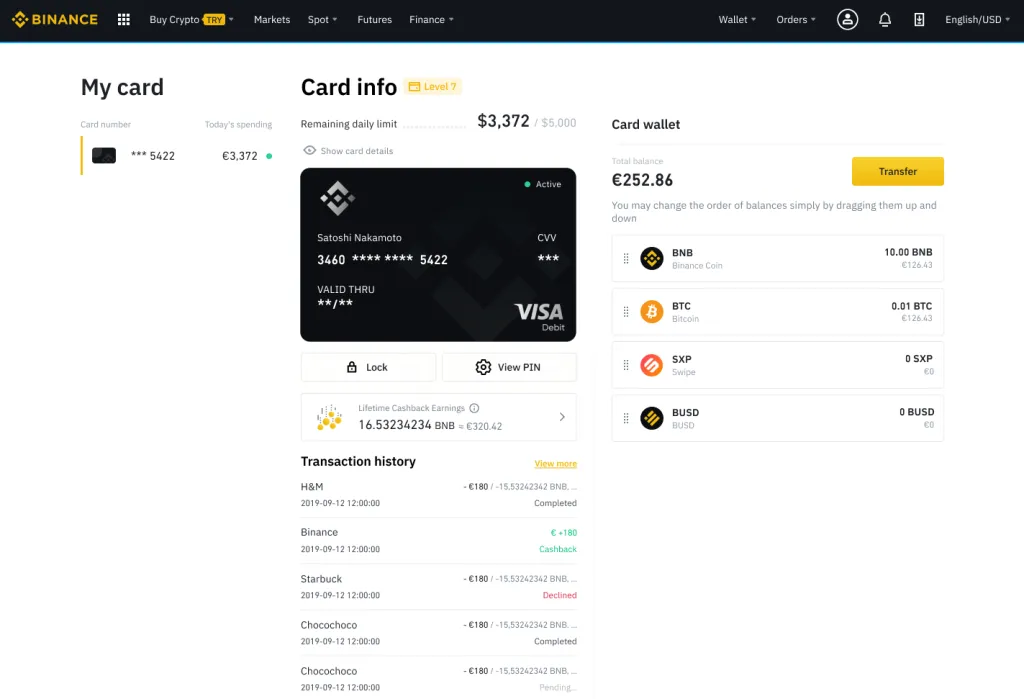 It is a stark contrast to other cryptocurrency debit cards such as Monolith or Plutus where users have to manually top up their card balance. Furthermore, as Binance offers a custodial service you do not have to worry about high network fees when spending up your bitcoin debit card. Of course, this does mean you do not control the private keys of your held cryptocurrencies. But, there is a certain peace of mind to knowing you can reset your account password if forgotten.
Note Binance Visa Card is live, you can sign up today and physical card deliveries have started.
Binance Visa Card Review
Advantages
Up to 8% cashback in BNB.
Fast KYC verification process.
Free sign up.
No Recurring Fees.
Connected to your Binance Exchange account.
Contactless Visa Debit card
Spend crypto automatically.
Supports Google and Samsung Pay.
Manage on website and App.
Disadvantages
Low Monthly limit for ATM withdrawals
Currently only available in the EU.
Need at least 200 BNB to make the cashback interesting.
Funding Sources
This may be one of the easiest crypto debit cards to top up, especially if you're a regular Binance exchange user. Users only have to move funds from their Spot Wallet account into their Card Account. Additionally, you can use a fiat currency EUR if you want to avoid any market volatility.
Binance Visa Card will convert crypto funds automatically into the local currency, enabling you to spend cryptocurrencies seamlessly. As this uses Swipe's technology in the backend, major coins such as BTC, BNB, BUSD, and SXP can be used as a funding source.
Cashback and Extra Perks
Currently, we do not know any details about the Binance Visa Card rewards program. What we do know is that various Swipe Card tiers are being migrated to the platform.
Therefore, we expect native Binance Card users to have the same type of rewards programs. Such as rebates for Netflix, Amazon Prime, Spotify, or Uber. What we do know is users will all receive instant cashback in BNB, even at the lowest account tier you will still receive a 1% cashback. Given that most banks in the world do not provide any cashback, this should drive adoption by default.
This is how the Binance Visa Card will calculate your eligible cashback amount.
| | | |
| --- | --- | --- |
| Card Level | BNB | BNB rewards on your card purchases |
| 1 | FREE | 1% |
| 2 | 10 | 2% |
| 3 | 50 | 3% |
| 4 | 200 | 4% |
| 5 | 500 | 5% |
| 6 | 2,000 | 6% |
| 7 | 6,000 | 8% |
Excitingly, users do not have to have to agree to a lock-up of any BNB. The cashback reward is set by the average amount of BNB across your whole Binance Account (Spot, Futures, Launchpad) over the last 30 days. In our opinion, this may be one of the best ways to offer a crypto cashback program yet, as cardholders stay in control of their funds with no restrictions.
Binance Card Fees and Limits
As of writing, there are no maintenance or subscription fees for using Binance Visa Card. It is free to sign up for this Bitcoin debit card, you just have to pass KYC level 2 verification and reside in a supported region. Additionally, if your transactions are made in Euros then there are no processing charges.
Here is a selection of fees and limits that you should be aware of.
| | |
| --- | --- |
| Fee Type | Fee |
| Daily Spending Limit | EUR 8,000 |
| Monthly Spending Limit | EUR 20,000 |
| Daily ATM Withdrawal | EUR 150 |
| Monthly ATM Withdrawal | EUR 300 |
| Transaction fee, both at point of sale and ATM withdrawals* | up to 0.9% |
| First issue of the virtual or physical card | 0 |
| Reissue of the virtual card | 0 |
| Reissue of the physical card | EUR 25 |
| Inactivity (12 months) | 0 |
| Account closure | 0 |
As we can see the ATM withdrawal limit for cash is quite low for the month. Meaning this crypto debit card may not be the best option for a user that prefers spending cash. Of course, Visa cards are accepted by over 50 million merchants worldwide so it should not be much of a problem. As with most cryptocurrency debit cards, fees and limits can depend on the region you reside in. You can check all the applicable fees on their website here.
Summary: High Cashback BTC Debit Card?
What's particularly interesting about the Binance Visa Card review, is that you can access a high cashback level of 8% without needing to lock up any coins. Potentially not everyone will want to receive cashback in BNB, however, it would be trivial to convert this to your favorite coin via the exchange. Furthermore, as Binance is one of the biggest cryptocurrency exchanges with high liquidity you will certainly receive the best market rates for conversions. However, if that is a breaking point for you, then take a look at Wirex Card as an alternative crypto debit card.
As long as you're happy to hold BNB, then Binance Card is a fee-free BTC debit card that can spend crypto frictionlessly with the highest cashback in the industry. Meaning any BNB holders should jump on the chance to sign up. Furthermore, you can park your BNB in the new Vaults to earn a daily income along with your cashback level.
Currently, right now the only real disadvantage is the limited region support. However, Binance exchange is a worldwide platform which means we expect them to expand their card offering aggressively.
How to sign up?
Believe our Binance Visa Card Review means it is the right option for you to spend Bitcoin via a crypto debit card? Sign up today! Use our referral link to receive a lifetime platform-wide 10% discount on trading fees.
If not? Check out our other crypto card reviews.