What is Raydium? Learn how to farm RAY token
Learn about the decentralized exchange Raydium on Solana, how to add liquidity and start farming RAY tokens. Also how you can enter IDOs to buy pre-sales of upcoming projects.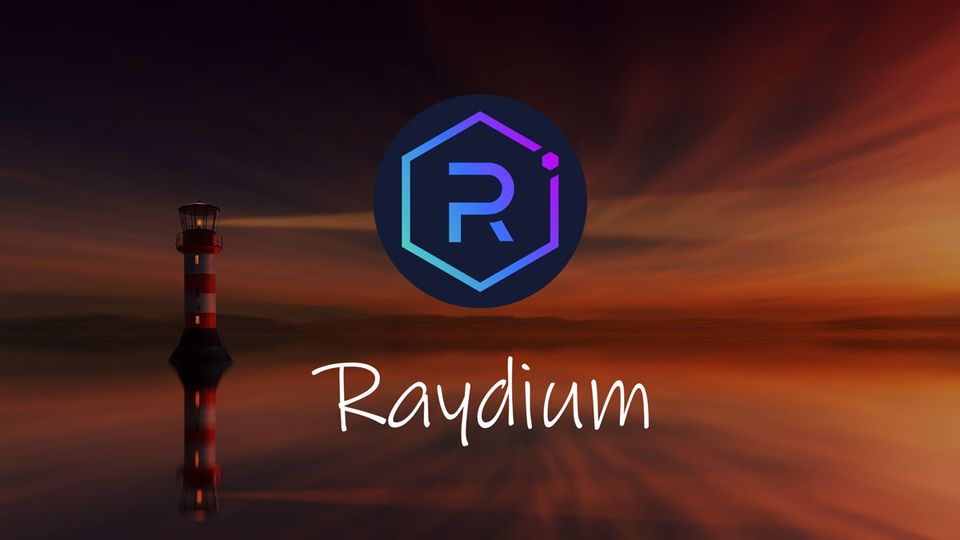 Raydium is an automated market maker (AMM) built on the Solana blockchain, very similar to SushiSwap on Ethereum or PancakeSwap on Binance Smart Chain. Here we will learn how to add liquidity(to earn trading fees) and stake in farms for earning yield in the native RAY token. Currently, this is the backbone of all DeFi strategies and yield farming on Solana. There are also additional opportunities via fusion pools, single RAY staking, and accessing pre-sales through RayAcceletor.
Why is Raydium different?
One key difference that sets Raydium apart from its competitors, is that the protocol interacts with the central order book of the Serum decentralized exchange. As a result, Raydium allows access to the liquidity of the entire Serum/Solana ecosystem and is not just stuck to its pools. Additionally, the platform provides a DEX UI that enables advanced features such as limit orders and TradingView charts. Lastly, there is no need to worry about losing profits to high network fees as Solana network fees are a tiny fraction when compared to Ethereum.
How to add liquidity?
Open up the "Pools" tab on the website, this will show you all the available liquidity pools. Click "Connect" in the upper right corner, this will connect your wallet. We recommend using Sollet or Phantom as it's supported across the whole Solana ecosystem.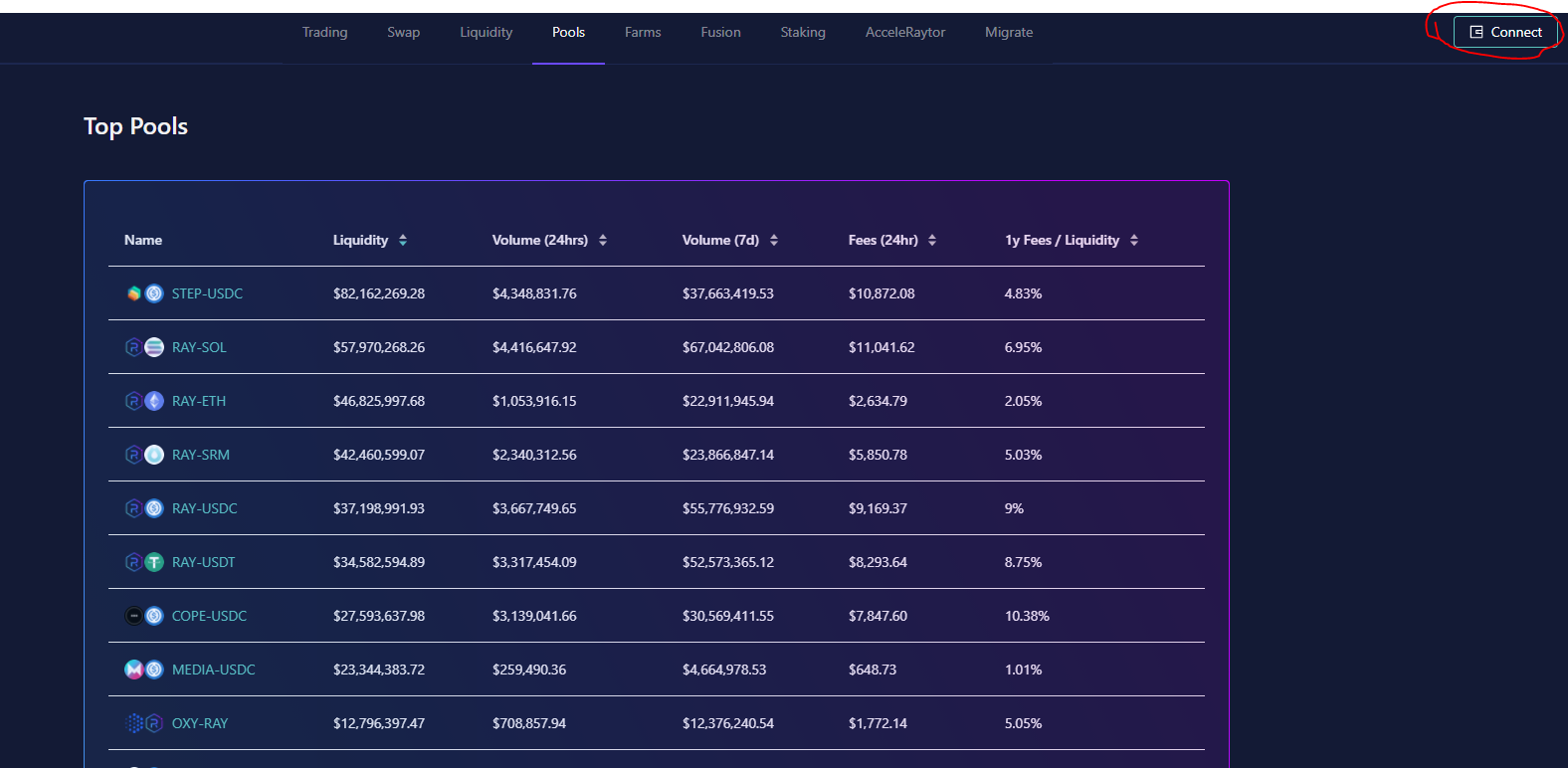 Select the pool and it will open the liquidity dashboard, you may need to select the correct tokens from the dropdown. We will add to the RAY-ETH pool, remember to add liquidity you have to provide both tokens at a 1:1 ratio according to their USD value. If you enter the amount on the first token, then the second token will adjust automatically.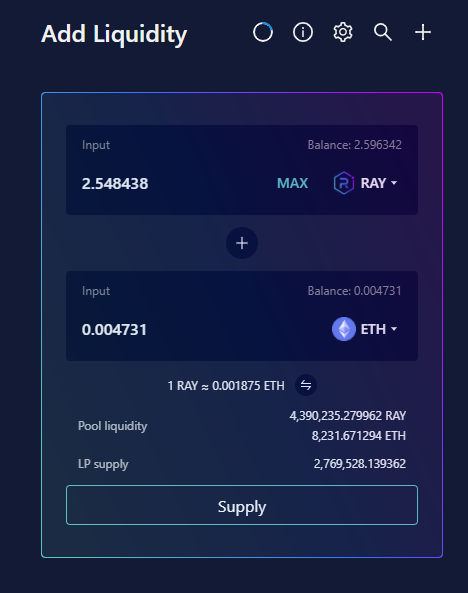 Click 'Add Liquidity', your wallet should open up two transactions that you will need to approve both of them. You may find the Sollet pop-up is hiding under your main window. Once confirmed, you will see your liquidity deposit appear on the dashboard. Also if you refresh your Sollet wallet you will see you now have an RLP token (Raydium Liquidity Provider).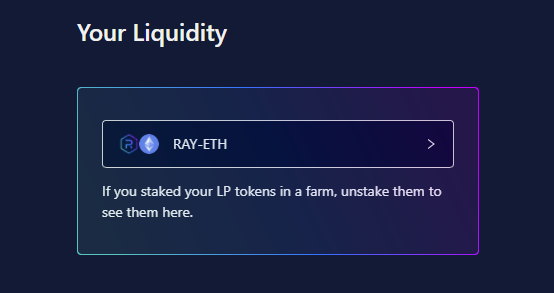 Easy! As a liquidity provider, you earn a proportional share of the trading fees that are generated by swaps going through your pool.
How to farm RAY tokens?
Additional yield can be earned by staking your LP tokens in RAY farms.
Navigate to the "Farms" tab, here you will find the official farms for mining RAY tokens.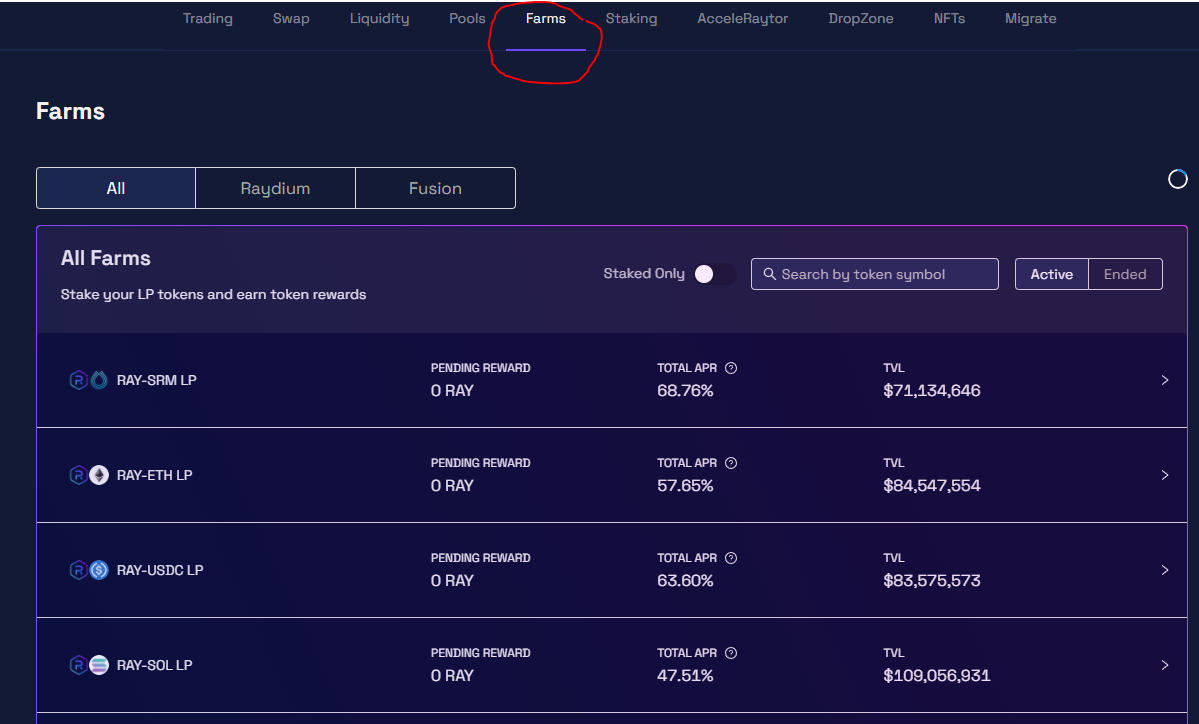 If you've been following the guide then we just added liquidity to the RAY-ETH pool, so you can click on that one. Next click 'Stake LP', where you should see you have a balance.

Select 'Max' to stake all of your balance, and then click 'Confirm', this will open up a transaction for you to approve in your wallet.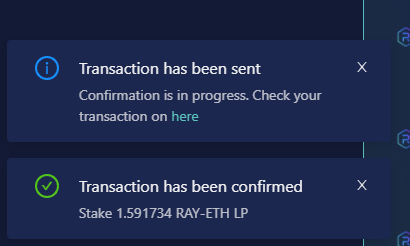 Once confirmed, you will start to see RAY rewards pending. You can claim them at any time by using the "Harvest" button.

How to stake RAY?
Now that you're earning RAY, what can you do with them? An easy way to earn more RAY is via single-staking. Essentially, Raydium has a 0.25% trading fee on swaps, it breaks down into 0.22% going back into the LP pool and 0.03% goes to RAY staking.
Open up the 'Staking' tab and click on 'Stake Ray'. Then all you need to do is set the amount and click 'Confirm', which will trigger your wallet to approve the transaction.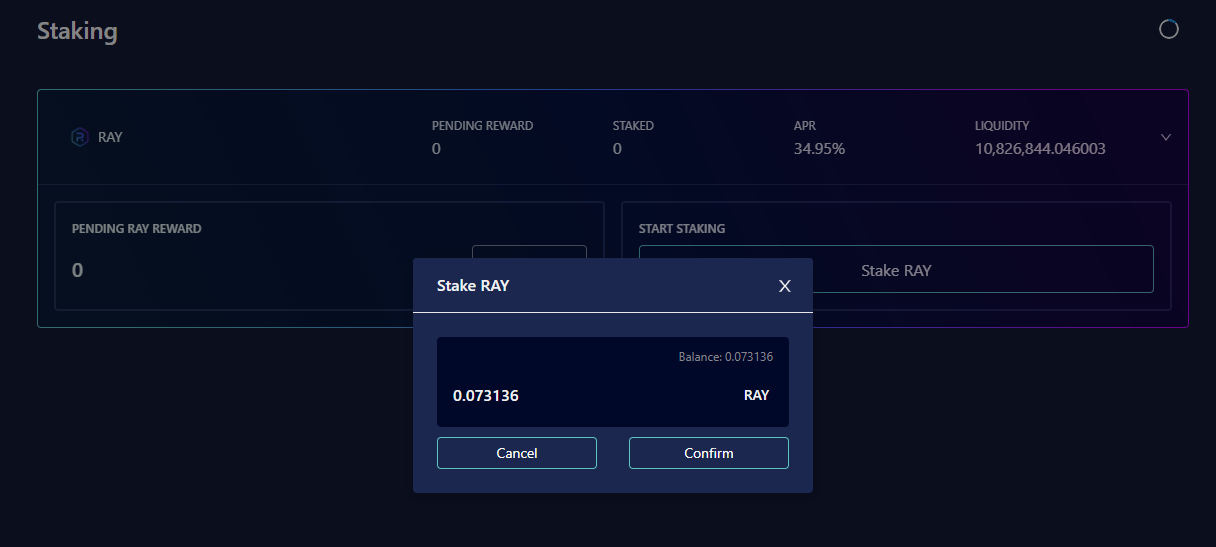 Once your RAY is staking, you will see the balance of your staked tokens along with your pending rewards. Just like in the farms, you can use the 'Harvest' button to collect rewards.
Staking RAY also gives you access to pre-sales which you will find in RayAcceletor.
What is RayAcceletor?
This is Raydium's version of an IDO launchpad platform, what's great is as long as you're eligible to participate then an allocation is guaranteed. No need to complete any whitelisting mambo jumbo and pray that your wallet address will be picked. All you have to do is ensure you've been staking the required amount of RAY over the period, usually two weeks before the scheduled IDO date.
So for example, the Mercurial Finance IDO for MER token had two pools available. One required at least 50 RAY being staked and the other 500, bear in mind you can participate in both pools if eligible for both.
All you have to do is click on the pool and deposit your USDC. Once the IDO is complete, you come back to claim your tokens once available along with any unused USDC. Recommend following Raydium on Twitter account to see announcements about upcoming presales via RayAcceletor.
What are fusion pools?
Another way to earn using Raydium is by joining fusion pools, these are farms set up through partnerships with other projects. Some of these pools offer dual yield opportunities where you can earn RAY + another token, so they can be lucrative.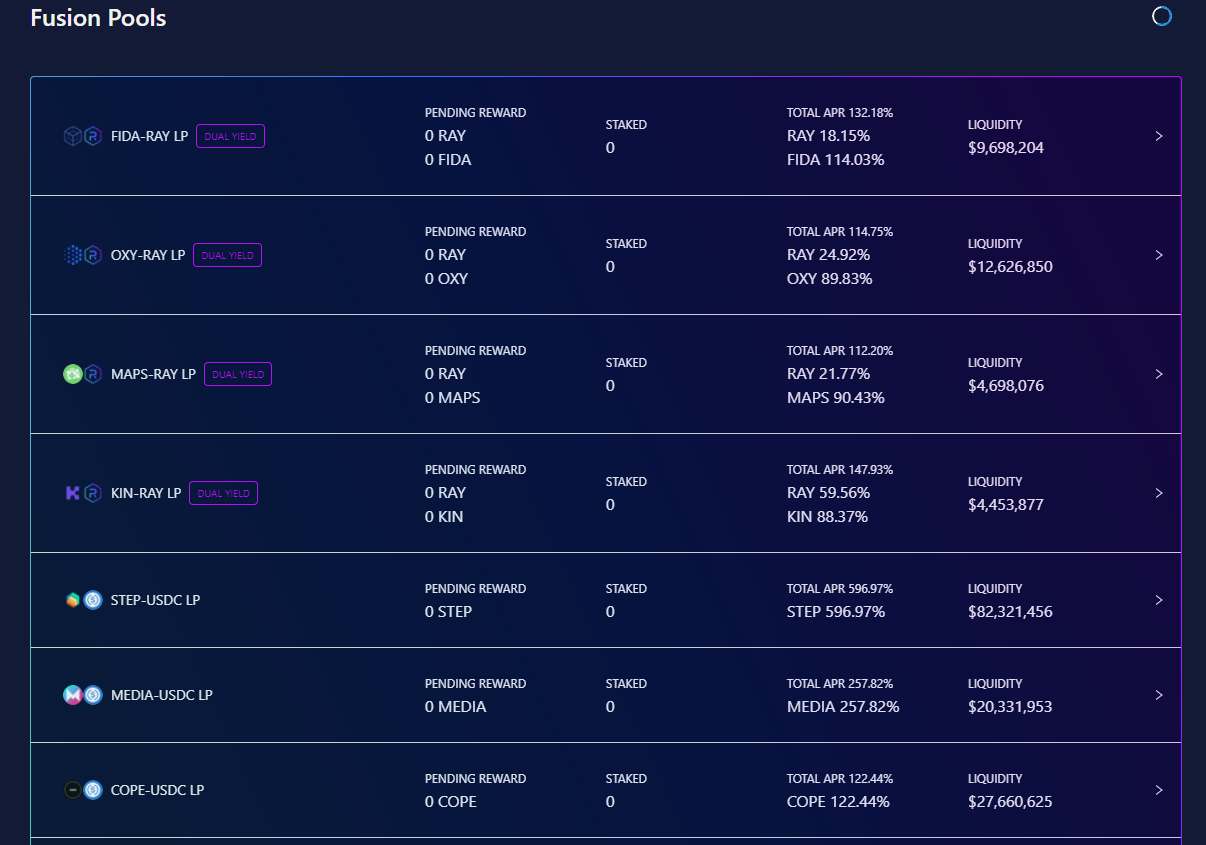 To join these farms, you follow the same steps as outlined above. First, add liquidity to the pool in question such as COPE-USDC.

Once you've added liquidity to the pool, then you need to come back to the fusion page to stake your COPE-USDC LP token. And harvesting rewards works the same way as with RAY farming.
That wraps up our guide on using Raydium, check out our overview of yield farming opportunities on Solana to learn some more tips.