Q&A with Dock: Discussing use cases for Verifiable Credentials
Interview with Team Dock before their mainnet launch discussing the project's vision, use cases for verifiable credentials, and future plans.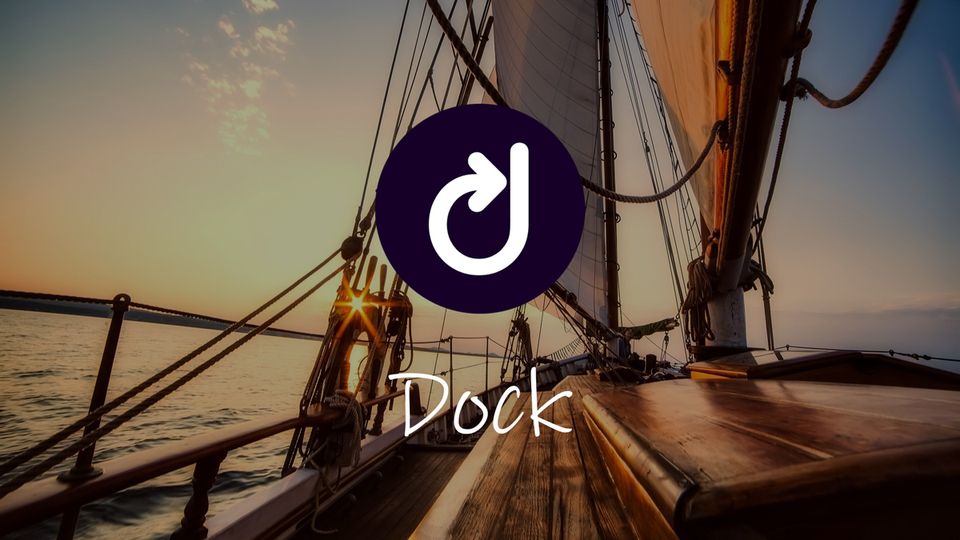 Dock provides a range of tools that enables companies and developers to issue verifiable credentials, secured by blockchain technology.
dExplain was able to catch up with Team Dock, ahead of their mainnet launch, for a Q&A interview with CEO Nick Lambert and COO Elina Cadouri to discuss the project's early vision, growing use cases for verifiable credentials, future marketing plans, and more. Enjoy reading!
Editor's Questions
Tell us your story, how it all began in 2017? How the team was formed and how you came up with the original vision?
Prior to starting Dock, our founding team was working on Remote.com, a job marketplace for remote work, and we're experiencing firsthand the challenges that come with lack of having complete and accurate user data to provide valuable job matching services. We were up against major internet behemoths who profit by siloing and controlling user data, thus hindering individuals from sharing their own data and innovators from creating new applications.
We always focused on building for the future of work and were naturally drawn to blockchain and the potential it had to impact our industry. We designed a blockchain-based solution for sharing verifiable professional data across various platforms and applications that would enable an open internet based on collaboration.
What started as an internal side project to decentralize data sharing, was spun-off into its own entity, and Dock was born.
Has your initial vision changed in 3 years? If we recall correctly, the original use-case focused on job hunting and simplifying the hiring process. Whereas, your updated website presents use cases for Healthcare and Supply Chain.
Our initial vision has evolved from focusing on career data to enabling any type of digital record to be issued as a verifiable credential, including professional accreditations, academic degrees, workforce credentials, licenses, and many more. As the project matured, we realized our technology could be applied to many use cases in addition to the workforce, and when speaking with issuers found a much wider need for verifiable credentials across several industries.
For example, license verification for healthcare workers is extremely manual and time-consuming. Verifiable credentials allow medical works to have their credentials instantly verified by hospitals, medical clinics, and insurance companies. Another great example is supply chain, which depends on goods transferring across manufacturers, exporters, shipping companies, etc., and are overseen by government agencies. Verifiable credentials enable participants to authenticate and provide proof of their authority in transferring the goods, ensuring compliance, and providing verified data along every step of the supply chain.
When you cover different use-cases, does it mean you have established partners in Healthcare, Supply Chain, and Workforce sectors?
We already have a partner in healthcare and are in discussions with organizations in other sectors and we hope to be in a position to make additional partnership announcements in the not too distant future. Since our inception, we've spoken with many established players across these industries who are working on solutions to incorporate digital credentialing via blockchain. We believe it's only a matter of time for technology to catch-up and we'll see wide adoption in various use cases.
Who is your main target audience, existing real-world businesses, or new startups?
We are discussing PoCs with both large companies and startups, as there are benefits to working with both. Established companies allow us to reach a larger audience to gain adoption and address existing challenges with how data is shared and verified today, whereas startups are driving innovation forward and can move much faster with creating solutions built on Dock.
Regardless of size or industry, the problem Dock fundamentally solves is the ability to create, present, and verify data that can be trusted without the need for manual verification.
Who is your main competitor if any? From both, crypto world and off-chain businesses?
Our competitors include companies that verify data on behalf of their clients. We certainly have a technical edge over those that verify manually, although of course companies in that position are looking to improve their technical capability to maintain their competitiveness. In some cases, they will build these solutions themselves while others will seek to partner with companies like Dock who have the infrastructure already in place. So interestingly companies that may at first glance seem to be customers can in fact become partners.
In the crypto world, a mainnet launch is seen as such a big event that excites communities. However, we find in many cases the project's follow up is lacking. In our opinion, it happens when teams become so focused on developing it creates a clear disconnect with any future business vision. As in some teams literally don't know what to do after it's launched, how to get their product launched, and scale sustainably. What are your thoughts on this statement?
Yes, I think this can be accurate in some cases and it is not just a problem that can be attributed to the crypto/blockchain. In our view, this issue can occur for many reasons. It could be that the project only contains technical team members who are lacking in business development experience who don't understand the importance of engaging early on with potential users. They end up building a solution that they want rather than one that their customers need.
They may also lack the marketing expertise to appreciate how and in which industries their offering can be used and are unable to sell the features and benefits in a way that is appealing to their target market. In short, building technology is hard, and growing a business at scale is harder still and requires an organization to have a wide and diverse skill set as possible to give it the greatest chance of success.
I believe it is correct to say Dock's business and sales processes are blocked by technology right now? In other words, maybe you can confirm that Dock does have a clear follow-up plan for your mainnet launch.
Gaining adoption is the most important success metric for Dock, we know that even if we build the best technology in the world, if there's no usage and no adoption then we will not be successful. We have built Dock with a focus on real-world usage by providing a developer-friendly SDK, documentation, and direct support for developers.
We already have teams creating apps with the SDK and are in PoC discussions with a number of larger partners. We will be sharing an update to our roadmap soon and you will see that it is focused on developing additional features for issuers that are based on feedback we are receiving directly from partners.
How does a security audit look for you?
We are currently undergoing a security audit with Quantstamp who are well-known experts in providing crypto security audits. They are reviewing Dock's substrate node and SDK to identify any security vulnerabilities and concerns. Once completed, we will publish the final report.
Governance – can you provide some simple scenarios about what exactly holders will vote for?
Governance is and will be increasingly used to manage many aspects of the network. We have outlined a framework that incorporates both off-chain and on-chain activities where the Dock Association (a Swiss non-profit organization set up specifically to look after the interests of the network) in conjunction with token holders and validators will; manage the ongoing technical development of the network, oversee adoption, add or remove network functionality, change network incentives and manage the treasury. Readers who are interested can find a more detailed breakdown about governance on our website.
What is "Anchoring" in your roadmap and wouldn't you prefer "Sailing"?
Anchoring enables users to store a digest of the credential on-chain which creates an immutable timestamp of the credential. This is an important feature for issuers who need to provide proof of having a valid credential at a certain point in time. Maybe we will have a future feature called "sailing"
Could you tell us more about upcoming marketing initiatives?
The focus post main net launch will be on migrating Dock's token onto our mainnet. At the moment Dock is an ERC20 token but we're moving quickly to migrate across a new native token (on a 1:1 basis) to our mainnet during Q4 this year to increase the tokens utility and to ensure everyone using the network starts to benefit from the incentives that a native Dock token provides.
In tandem, we will also focus on network adoption, build tools and develop guides to enhance the user experience for new issuers while also increasing our network of partners to commence with several PoC and pilot projects.
Community Questions
Questions from our community were mainly around speculation of DOCK's price. Is this something that pressures the development team, or do you have more of a "we are currently building, the price will follow" mindset?
We're very much of the opinion that if we build something that is innovative and useful we will create value for our users and the wider market. On the whole, we put greater importance in roadmap delivery, which has been our biggest focus through 2020.
There were a couple of questions about price suppression. In our experience, this tends to happen when projects are low on funds as they market dump development funds. Maybe you would like to clarify your current funding levels e.g. are your operations covered for the foreseeable future?
We have sold very few of our tokens so the comments about price suppression are unfounded. As an organization that wants to ensure long term success, it makes no sense that we would attempt to negatively impact that in any way. As a result of long term prudence, we have an excellent runway for a young company, so operational and marketing spend is certainly not an immediate focus for us.
There is also excitement around Dock's links to the Polkadot ecosystem. Are you collaborating with any teams developing in the wider DOT ecosystem?
None at the moment other than the Web 3 Foundation who have been extremely helpful and supportive on our journey so far.
Great! Well that wraps up our interview with Dock, thank you for your time. We are sure you are very busy with your mainnet launch, so will not keep you any longer. Good luck!