What is DexMex? DEXM Token Review
What is DeXMex? Decentralized exchange for peer to peer leverage trading of any Uniswap token, powered by DEXM governance token.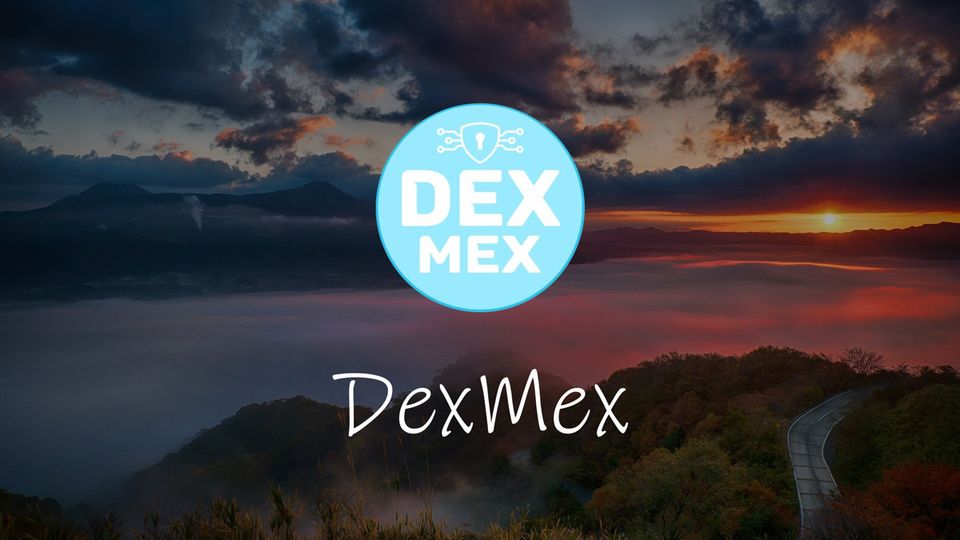 💡
This post is a sponsored article. The post is not financial advice and simply aims to provide a summary of available information. Readers should do their own research before taking any action.
DexMex is the first decentralized exchange that will enable peer to peer leverage trading for any token. Essentially, users can open long or short positions with leverage for any token trading on Uniswap. Here we will take a look at the advantages of trading on DexMex compared to a centralized platform. Along with reviewing the use cases for the protocol's native DEXM token.
Advantages of DexMex
Flexibility: the protocol is 100% decentralized which enables users to open a long or short position against any token listed on Uniswap. No need to wait for your favorite token to list on a CEX that supports margin trading, with DexMex you can trade with leverage straight away.
Peer to peer: Losing positions reward the winning positions in a directly funded way. As a result, there is no need for the protocol to attract a large number of liquidity lenders before enabling leverage trading.
Liquidity: DexMex does not face any liquidity problems because the reward value of a user's position is determined by a ratio between the interest of the shorts and that of the longs.
No borrowing: All trading happens in Ethereum, no need to borrow the token to enter a long or short position.
Timeless positions: Users can hold a long or short position open as long as they want, you could compare it to a perpetual futures contract on a centralized exchange.
Low fees: There are no funding rates or hidden commissions that stack up over time, DeXMex has a low 0.8% trading fee to enter a position.
No barriers: Users do not have to go through any KYC procedure or create an account. As long as you have your MetaMask wallet you will be able to trade, meaning funds remain 100% in your control at all times.
DEXM Tokenomics
The DexMex token (DEXM) is an ERC 20 token on the Ethereum network. It has a total supply of 50M tokens with 19M tokens available in the presale.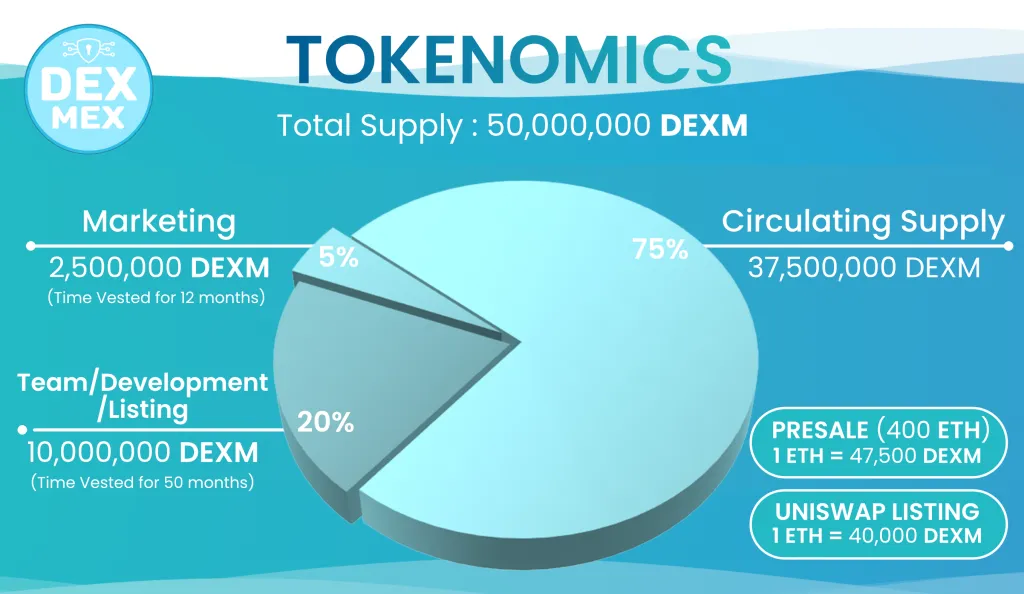 The development team has gone through a successful KYC process via Pinpoint Capital. The pre-sale will start on 13th February at 17:00 UTC, so set a reminder in your calendar!
Use cases for the token include the following:
Governance: DexMex is a decentralized protocol that will evolve with community inputs. All token holders will vote over how to manage treasury funds, upgrades, or platform fees.
Profit-Sharing: Token holders can earn a share of the fees (0.5%) generated by the protocol through staking DEXM, which is distributed in ETH.
Buy Backs: The protocol will also use fees (0.2%) to automatically buyback DEXM tokens and permanently destroy them through burns.
Treasury: The remaining 0.2% of the fees go into the treasury, which is managed by DEXM token holders.
Final Thoughts
DexMex roadmap states the platform should be fully operational by late Q1 2021. That will be a key date to watch, as once the protocol starts burning DEXM then demand will increase through scarcity.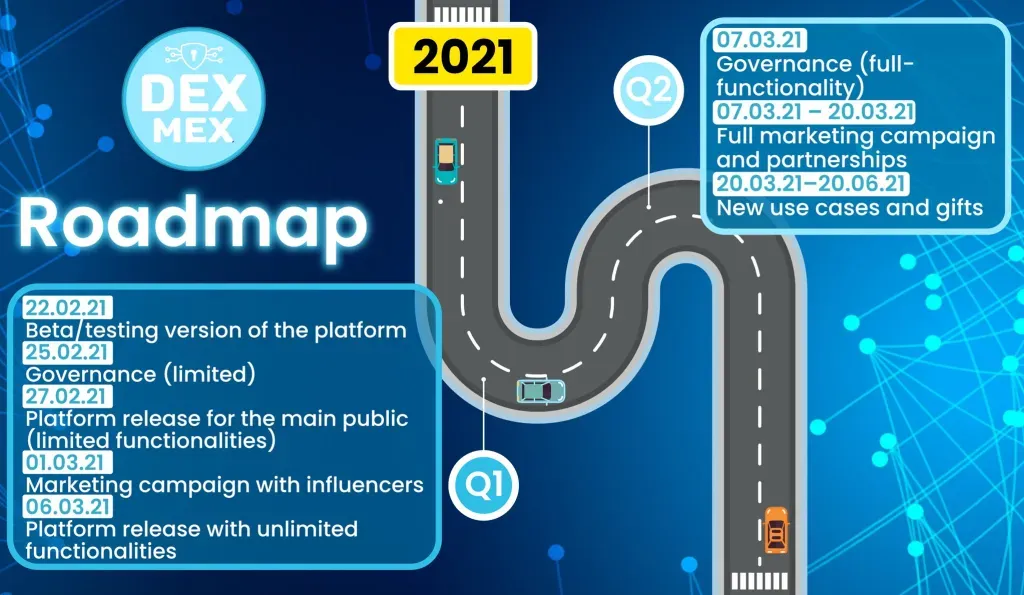 The bulk of trading derivatives takes place on centralized platforms such as Binance or Bitmex. However, both exchanges have a history of system problems that limit a user's ability to maximize profits. With DexMex traders know their position will never be automatically closed or de-leveraged. It seems a given that as soon as decentralized leverage trading becomes easy to access, users will migrate over. Expecting adoption for DexMex to explode during 2021 as the masses embrace the DeFi economy!