Binance Lists Maker MKR and DAI: More DeFi Tokens Enter CeFi
Maker MKR and stablecoin DAI are now listed on Binance. We now see a trend of more DeFi tokens enter CeFi and they continue booming.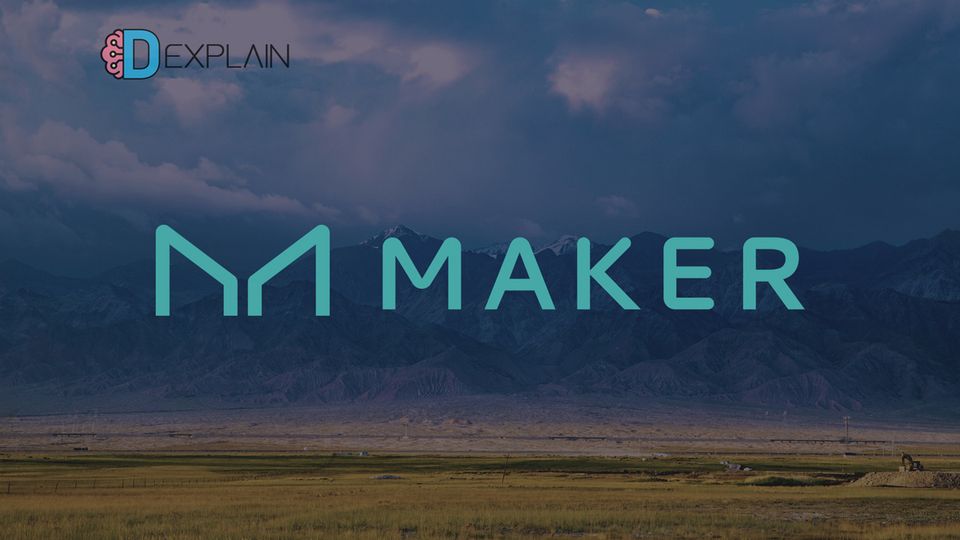 Binance – the leading cryptocurrency exchange – has listed the Maker's platform native governance token MKR along with the project's stablecoin DAI. We now see more DeFi tokens enter CeFi platforms. After successfully listing Synthetix's SNX and Compound's COMP early July. There should be no doubts, that Binance has kept its eyes on the ever-growing appetite for DeFi tokens by traders.
Binance will start by offering limited trading pairs. This is quite usual for newly listed tokens and will likely increase in the future. Currently, you can access the following markets pairs: MKR/BNB, MKR/BTC, MKR/BUSD, MKR/USDT, DAI/BNB, DAI/BTC, DAI/BUSD, and DAI/USDT.
Maker on Binance
The new listing is a significant milestone for the Maker ecosystem. Their users have been demanding for a Binance listing for quite some time. Generally speaking a Binance listing has a positive impact on any cryptocurrency or token. Mostly because the platform has such a large user-base. Many DeFi tokens are only on decentralized exchanges such as Uniswap or Kyber Network. Or stick to chasing listings on obscure centralized exchanges with low user bases. As more DeFi tokens enter CeFi platforms, adoption will continue to grow.
While you could argue that this ensured their token holders and supporters were more familiar with the project's tokenomics. Particularly, at actually using the product. Compared to just buying the token for speculation, growth is limited by the increased difficulty of buying the asset. Binance now listing MKR and DAI, cements that major exchanges have been keeping a close eye on DeFi tokens. It perhaps is a sign that they will be further integrating them into their platform.
MKR Price Reaction
The initial MKR price reaction in the hour after the news broke was very positive. The token's price jumping up by +12%.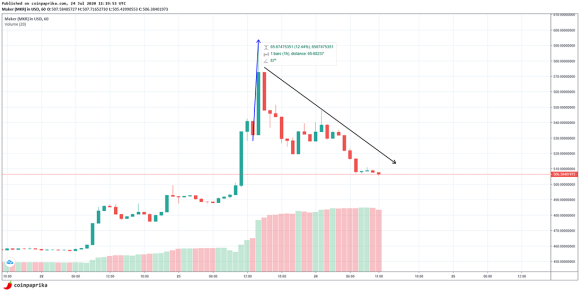 Then the market went through a quick correction. Now we can see the drawback has started a downwards trend for now. However, take note of the big increase in overall trading volume also. Another great sign that traders are hungry for DeFi tokens – especially governance tokens such as MKR. DAI though it is the primary token of the Maker protocol is a stablecoin. Consequently, the value is pegged to the U.S. Dollar – so we did not expect to see any significant changes in price.
More DeFi Tokens Enter CeFi?
Decentralized Finance (DeFi) has been and still is one of the hottest topics in the blockchain industry this year. Currently, the DeFi market has hit over $3.54 billion in total value locked. It is also one of the main reasons why Ethereum usage is so high right now. Due to a new craze called Yield Farming – the process of using as many DeFi protocols at the same time. Known as stacking, the idea is for the user to grab the highest possible yield. Furthermore, DEX trading volumes went over $1 billion for the first time last month. If you have been following Ethereum updates or are a DeFi enthusiast, then this will be old news.
And that is just the point! Listing MKR and DAI, opens this sector of the industry up to a whole new audience of traders. Many who are just starting to hear about DeFi tokens for the first time. This new retail on-ramp for purchasing MKR will result in new tokenholders to participate in the Maker ecosystem. Furthermore, as DAI is found in nearly all DeFi products it should also increase usage of DeFi as a whole.
Binance also already has a section of their platform dedicated to staking. In addition to products allowing users to earn interest for locking up stablecoins such as BUSD or USDT. I doubt they will simply want to be an on-ramp for Yield farmers buying DAI to move off the platform. Binance will want to capture the value of the whole process. Meaning, we could see more DeFi tokens enter CeFi on Binance in the near future.
Stay safe and trade well.