7 Reasons Swipe (SXP) DeFi plans with Binance Chain will rocket
What is Swipe Wallet? Learn 7 reasons Swipe's DeFi plans with Binance Chain will rocket, along with SXP price predictions.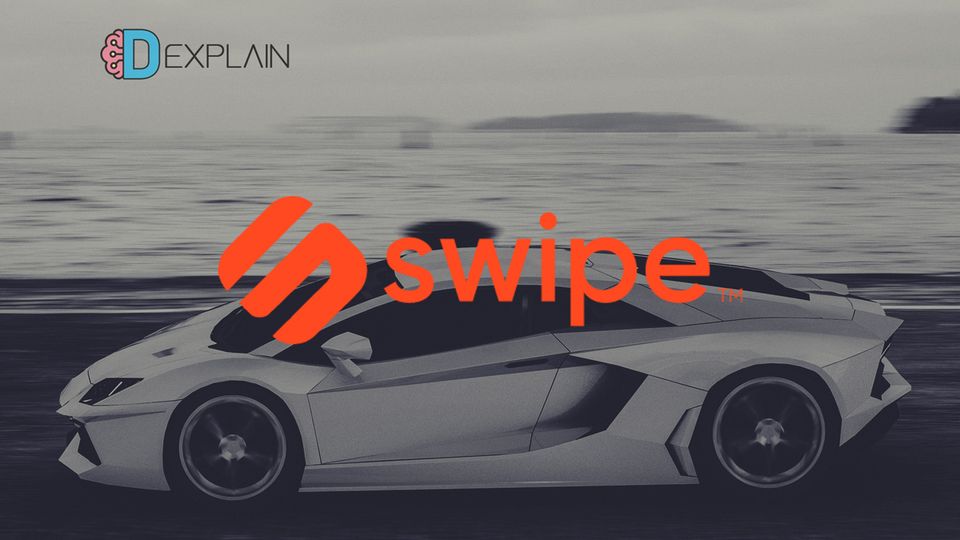 Swipe has had an extremely active month of July 2020 with several new partnership announcements, exchange listings, and DeFi plans. All of these have influenced SXP's price near immediately on publishing. Which has kept crypto traders and investors glued to their news-feeds talking about SXP price predictions. So let's take a look at what Swipe Wallet is together.
If you're looking for a cryptocurrency debit card, check out our full Swipe Visa Card review. Along with our comparison to other crypto cards available on the market.
Firstly, we will look at why Swipe Wallet is such an exciting product right now. Secondly, we will go through their DeFi plans with Binance Chain. And lastly, we will provide our SXP price predictions. There have been some swings, though SXP is now up by +222% over the last 30 days. With every announcement, the project is looking increasingly bullish in the short-term and long-term.
7 Reasons Swipe's DeFi plans will rocket SXP price predictions
Though the price increase is not the only reason why SXP is trending across the crypto twitter. SXP holders are now looking forward to earning staking rewards, cross-chain DeFi with Binance Chain. Let's recap what happened during July, to go through seven reasons why SXP will continue this rocket growth.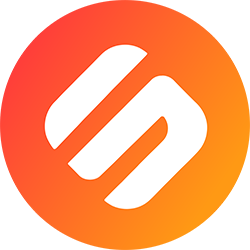 1) Swipe and Binance partnership: SwipeFi
Binance acquiring Swipe was announced on July 7th, which led to the integration of $BNB and $BUSD in Swipe Wallet. Along with an SXP/USDT perpetual contract on Binance to trade with up to x50 leverage. There will be even closer integration of Swipe Network and Binance Chain, with a new DeFi product called SwipeFi. SwipeFi will be a new DeFi protocol for Binance Chain tokens (BEP-2) which will work much like MakerDAO on Ethereum. Holders of BEP-2 tokens can earn interest by supplying their assets to the protocol. And also will be able to borrow against their collateral. It will all happen directly on Binance Chain, which is an immense value proposition for DeFi users. Compared to the high transaction fees, gas fees, and slowness we currently find on the Ethereum blockchain.
SwipeFi on launch will support BTC, BNB, ETH, BUSD, TUSD, and SXP to supply or borrow via the protocol. The new DeFi lending protocol is based on the open-source code of the Compound. Which will re-assure users that the code is battlehard. Stakers on the Swipe Network will be able to receive the fees generated by SwipeFi. Lastly, the protocol will govern itself by the community to improve decentralization.
2) Swipe Governance Token Airdrop (CANCELLED)
The new governance token will start by being airdropped to existing SXP holders, at the ratio of 1 SGV per 100 SXP. There will only ever be 10,000,000 SGV ever in existence, 2,999,700 SGV will be airdropped by taking a snapshot of SXP balances on 17th August. The rest of the supply will be distributed as liquidity rewards for supplying and borrowing via the SwipeFi protocol (as an incentive for usage). We will be learning more about the governance details when the SwipeFi whitepaper is published on the 10th of August.
Update 05/08/2020: After community and investor backlash, the team has now decided to cancel the Swipe Governance Token Airdrop. The protocol's governance token will now be SXP itself. It will be interoperable between both Ethereum and Binance Chain using a decentralized bridge. To summarize, it will work by locking up 1 SXP on ETH chain to receive 1 SXP on BNB chain. This keeps all the tokenomics of Swipe protocol as SXP and introduces no new two token ecosystem.
3) Staking with 12% APY
In just two weeks, the mainnet for Swipe Network will launch and staking will go live. Staking is an important part of the Swipe ecosystem. Namely it ensures the payment network will always be able to access real-time crypto to fiat conversions at any time. The idea is to lock up SXP to guarantee these conversions. Stakers can earn rewards for providing collateral along with rewards from generated processing fees. The team has announced an estimation of 12% APY on staking. Staking should also lock up token, which will influence SXP price predictions.
4) Visa Card Rewards Update
Users can now choose to receive up to 4% cashback in either Bitcoin, Swipe Token, or Binance Coin. This is available on every purchase at over 60 million merchants worldwide that accept Visa. Currently, only European and United Kingdom users can order a Swipe Visa Card. By the end of the year other regions will be supported.
5) Partnership with Elrond
EGLD token is in Swipe Wallet along with enabling the token to be spendable via its Visa debit cards. Elrond has a strong following with a rich ecosystem of partners that Swipe can benefit from (such as staking services). We would also expect Maiar (Elrond's new mobile wallet application) to support SXP on release given the official partnership announcement.
6) Internalization of Swipe Wallet (v1.5)
With the release of Swipe Wallet v1.5 came internalization. You can now use the mobile application in eight different languages: English, Spanish, Italian, French, Portuguese, Chinese, Korean, and Japanese. This should help the app grow and onboard new users from these regions, that historically all have established cryptocurrency communities.
7) Partnership with Travala.com
Travala is a leading blockchain-based travel booking service, their native token AVA is now on Swipe. More interesting for SXP holders is that Swipe Token is available on Travala.com's list of preferred payment option. This means that now over 2 million hotels and accommodations around the world accept $SXP as a form of payment.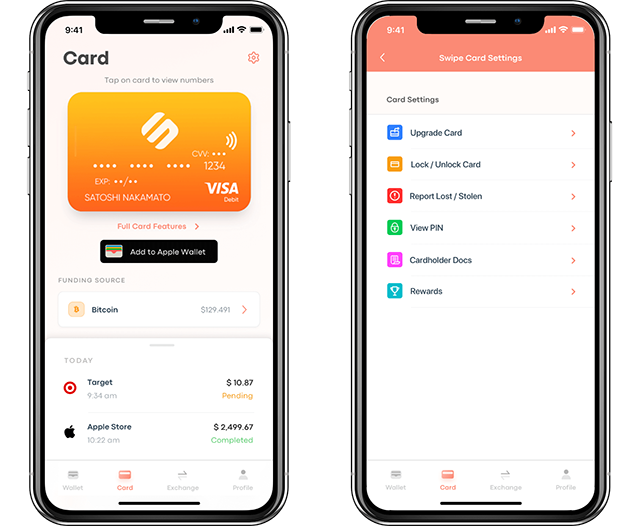 SXP Price Reaction July
Since early July the price of SXP has been trending upwards. Notably, fueled by the news that Binance bought Swipe, and SXP will trade on the platform. We can clearly see the massive trading volume increase. Which has resulted in an upwards price trend. One of the reasons that analysts have a very bullish outlook on SXP price prediction for the year.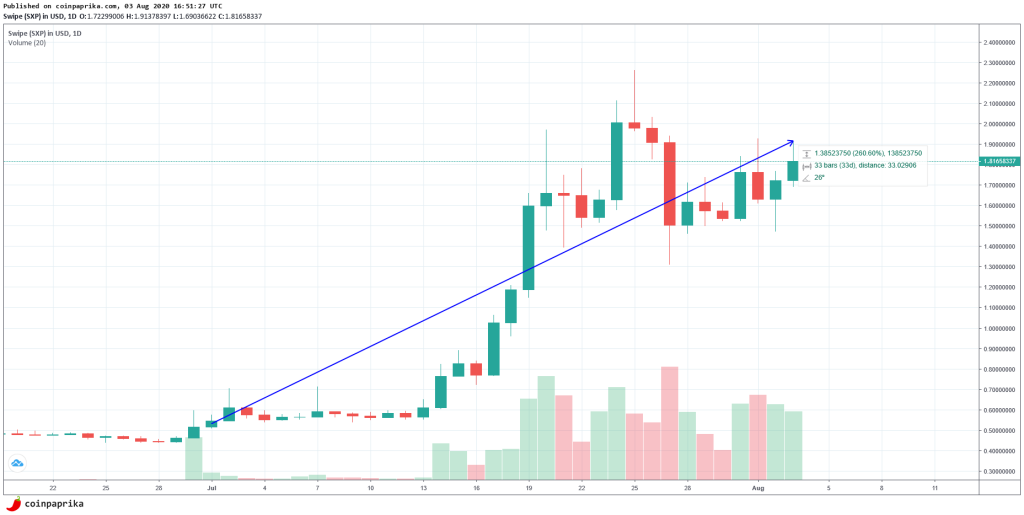 What is Swipe Wallet?
Swipe Wallet is a mobile application for Android and iOS to be a crypto-fiat gateway. It enables various cryptocurrencies spending as fiat currencies on-demand and in real-time. Swipe achieves this by establishing connections between existing legacy payment networks and blockchain technology. For example, their flagship product the Swipe Visa debit card allows users to spend their cryptos at any merchant. As long as the merchant supports Visa payments.
Swipe's mission is to bring crypto and decentralized finance to the mainstream by making it straightforward for users. Make it easy to work with cryptocurrency. For example, their crypto-fiat conversions happen within seconds. Swipe Wallet is very user friendly allowing users to deposit, store, and withdraw their cryptocurrencies. Furthermore, there is no need to manually convert crypto to fiat before wishing to spend it. The wallet application can deal with this automatically, so you can buy Ethereum in just a couple of clicks.
Another positive is that Swipe Network supplies all of the liquidity for conversions. So there are never any supply and demand problems when converting crypto to fiat. Lastly, we can't disregard is that Binance, the world-leading cryptocurrency exchange, has a major stake in Swipe.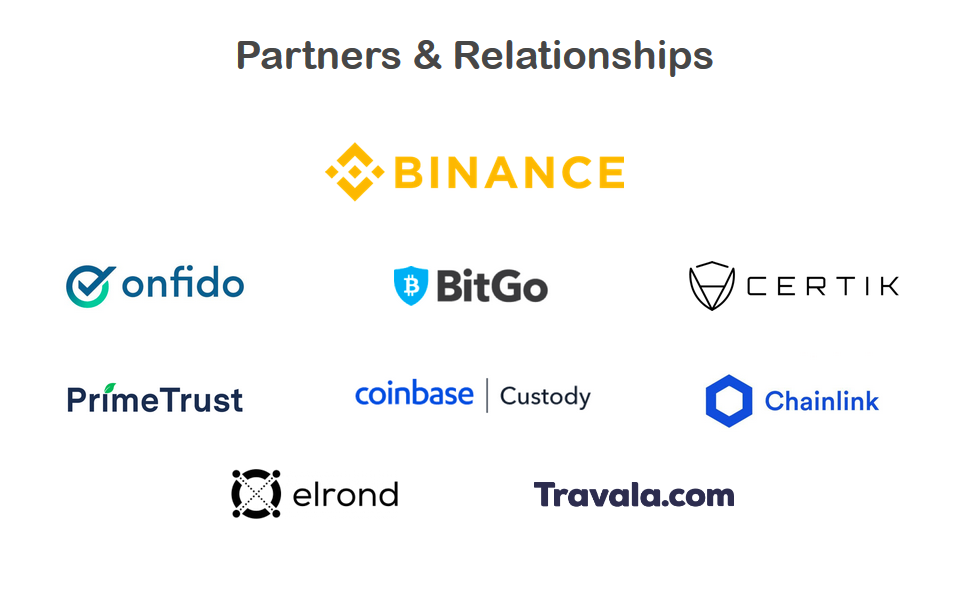 Swipe Tokenomics
SXP is the platform's native utility token for paying transaction fees, earn staking rewards. You can also use it to receive a discount on the platform's card fees. The token follows a deflationary model. Thus, the design will increase scarcity and drive the asset's value up. Using the Swipe Network immediately burns 80% of transaction and withdrawal fees by a smart contract.
Recent Price: $1.85 (3rd August, 2020)
All-time Low: $0.16 (Mar 18, 2020)
All-time High: $2.26 (July 25th, 2020)
Market Cap: $122,074,127
Circulating Supply: 65,982,752
Total Supply: 299,969,953
Where to buy SXP?
My SXP Price Prediction 2022
As you can see, I am bullish on Swipe and have been accumulating under $2 mark. I believe the price can go much higher, so do not worry if you have missed this entry. There are four major factors why I have such a positive outlook on SXP for the short term and long term.
120M market cap.
Owned by Binance.
65M circulating supply.
Crypto.com (CRO) competitor is valued at 3 billion market cap.
Those four factors alone already sound very bullish. Just think SXP could x20 and it would still be valued less than its closest competitor. Therefore, the growth potential for this asset is very attractive. If it did x20 by EOY that would result in SXP price moving above $30. Remember their debit cards are already being rolled out to Europeans. Other regions are coming by the end of the year, and that the CEO of Binance CZ supports the project. In the future we could see many crypto debit cards powered by Swipe Network. Just the fact that Binance Card is powered by Swipe should make you bullish enough!
Stay safe and trade well!