Compare Market Caps with MC.XYZ
Overview of market capitalization metric, learn to compare market caps with MC.XYZ to create predictions for crypto projects potential growth.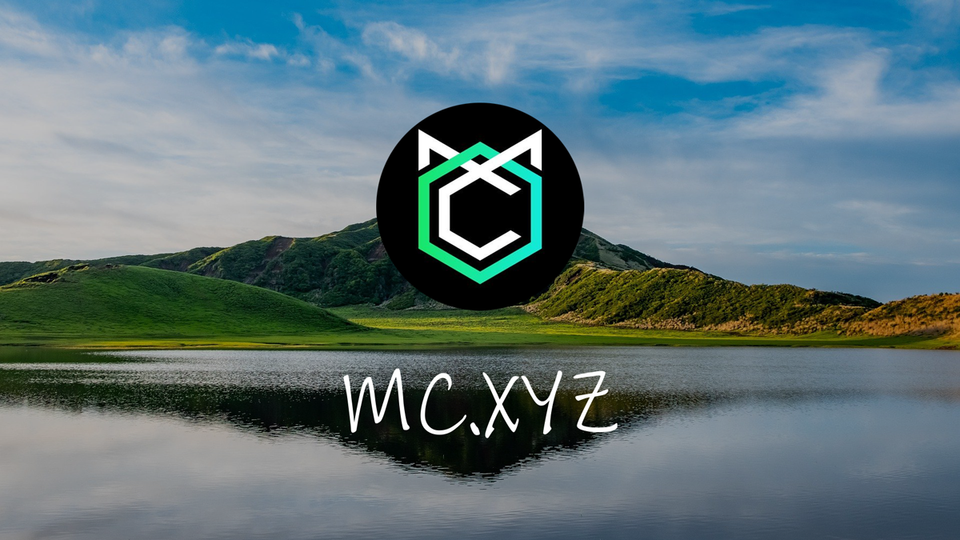 💡
This post is a sponsored article. The post is not financial advice and simply aims to provide a summary of available information. Readers should do their own research before taking any action.
Deciding how to balance your crypto portfolio between different projects can be a tricky task. You want to give your investments exposure to huge gains while also minimizing risk. Two things that don't go hand in hand if done incorrectly! A crucial metric for estimating a project's potential growth is Market Capitalization. Here we will take a look at using MC.XYZ, which will do all the heavy lifting for you, to compare market caps. An amazing tool to add to your repertoire, built by Radar and Don Yakka, lets you focus on making predictions.
First, a quick recap on what market capitalization is and how it can help us evaluate potential growth opportunities for a specific crypto project.
Market Cap: The Basics
Market cap is a term used by investors, it's short for market capitalization. In traditional stock markets, it's a tool for estimating how big a company is. And the same applies to the blockchain industry, essentially, it's a metric that measures the current market value of a cryptocurrency. As a result, it's the most popular tool for data aggregators such as Coingecko or CoinMarketCap to create crypto rankings.
The calculation itself is relatively simple:
Market Cap = Current Price x Circulating Supply.
For example, if token A is being traded at $2 and the circulating supply is 40M coins, then the market cap for this project would be $80,000,000. A common error novice crypto investors or traders make, is the belief that market cap is equal to money inflow. However, it has nothing to do with how much money is available in a coin's market/exchange's orderbook. Going back to our example, if token A's market cap increases to $160M then that means the price went up by 2x to $4. However, it doesn't mean $80M in bids suddenly entered token A's market. As price is dependent on volume and liquidity, it could just be a few million dollars that cause the price to pump.
What does the market capitalization metric tell us?
Stability: You will often see the terms large-cap, mid-cap, and small-cap. Projects with larger market capitalization are seen to be more stable, meaning they may handle periods of high market volatility better.
Market dominance: Investors also use the metric as an indicator of the dominance and popularity of cryptocurrencies. Meaning the higher the market cap, the more dominant it is thought to be in the market. For example, many traders look at Bitcoin Dominance as a major indicator for an altseason.
Risk vs Reward: the market cap metric gives you a good idea about the growth potential of the crypto. For example, people consider large-cap projects such as Ethereum as a less risky investment. Therefore, you might not make the types of huge gains(or major losses) seen by a small-cap project.
Predictions: It's an amazing metric for comparing two cryptocurrencies, as it gives us insights into a project's growth potentials. That's what we're going to focus on today, using the MC.XYZ tool to do all the calculations.
How to use MC.XYZ
First select the coin with the smaller market cap, the cryptocurrency that you might be holding or thinking of buying. For example, here we've selected FTT.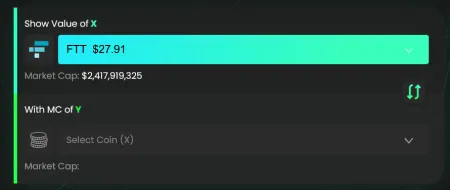 Then select the project with the bigger market capitalization, such as BNB.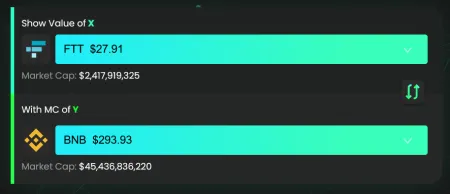 Boom! The converter does the rest and calculates by how much the price of FTT needs to go up to achieve the same market cap as BNB.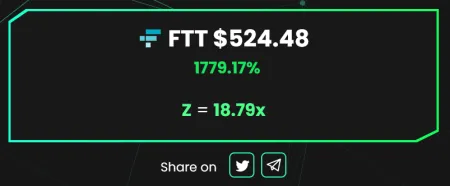 Essentially, MC.XYZ enables you to quickly calculate the future growth potential of a cryptocurrency. You can also quickly share your results with friends via the Twitter or Telegram button. Nice!
Tips for the best results
I don't recommend that you compare market caps for projects that do not operate in similar sectors. Market capitalization calculations don't take into account if a project is building in decentralized finance, artificial intelligence, store of value, data economy, or supply-chain management. As a result, just going off the basis of "project A has achieved it, so that means project B can do it" is probably not the best analysis path for making these estimations. Let's take a look at a few examples together.
Chainlink and Band Protocol are two projects often compared as they're both creating Oracle solutions.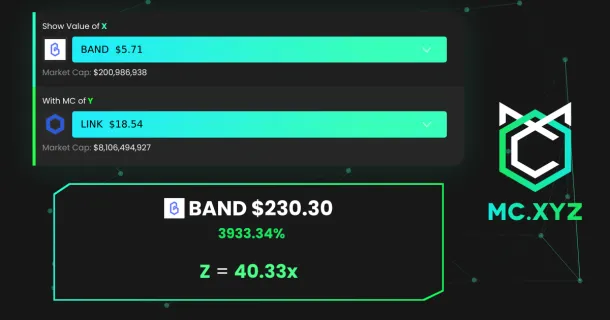 Uniswap and Sushiswap are both decentralized exchanges, so why not compare UNI and SUSHI?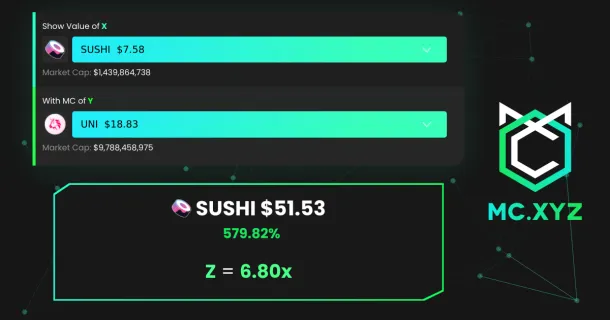 Various analysts point to Monero as a better store of value than Bitcoin, given its privacy benefits for holders.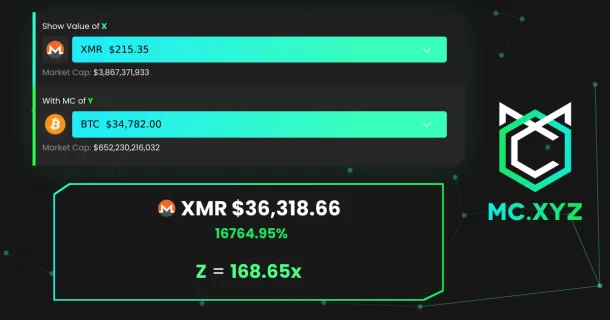 Hope those three examples have given you some food for thought on how to use MC.XYZ to compare market caps for making your predictions. I've also been told more analytical features are coming to the website in the future, so be sure to follow the team on Twitter or Telegram for the latest updates.