Interview with Vite: The Smart Contract Platform with Zero Fees
Interview with Richard Yan from Vite Labs, discussing Vite's team structure, trading zero fees on ViteX, future Vite Gateway 2.0 upgrades.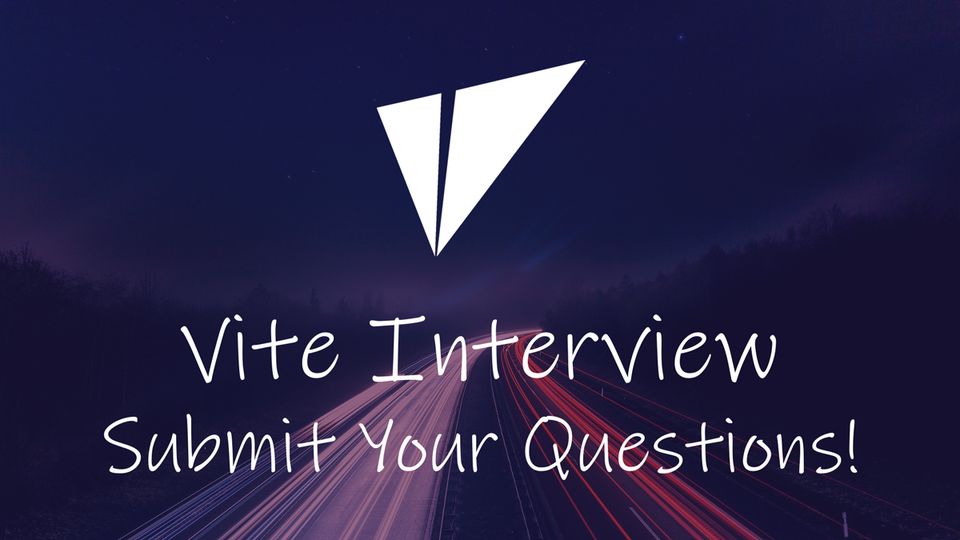 Vite is the world's first DAG-based smart contract platform, the design enables lightening fast transactions at zero fees.
Team dExplain interviewed COO Richard Yan discussing a range of topics from how team Vite is structured, the benefits of trading on ViteX decentralized exchange, and the growing excitement around Vite Gateway 2.0 upgrades.
Editor's Questions
First off, thank you for agreeing to this interview. If our dates are correct, Vite mainnet and ViteX have been live for one year, happy anniversary! What were the biggest surprises your team has handled so far?
The biggest surprise for ViteX may have been how smoothly the exchange has been operating. We have attracted daily volume of up to 100 BTC, and for the most part of the year experienced no issues. This really speaks to the robustness and performance of the underlying Vite chain. This is a testament to the design choices of Vite chain's block-lattice DAG ledger and DPOS consensus algorithm.
Your team structure is quite interesting, with R&D based in China and Marketing based in the US. Where was the original idea for Vite born?
The idea originally came from our CEO Charles Liu and co-founder Leo Zhang. They were both technocrats active in the crypto community. And they wanted to create the "perfect coin" incorporating key features they wanted to see. The origin story is here.
The team has two headquarters, in Beijing and Silicon Valley because of the global nature of crypto.
How does your marketing team operate in Asian markets? Do you see any emerging differences in the blockchain sector between US and Asian markets?
We have relationships with key media players in Asia, especially those in China. Besides China, we have very capable community managers in Japan and Vietnam, who run very active communities in their respective regions.
There is a lot more fundamental research and innovation from the US. There are a lot of interesting token models in Asia.
Given Vite's international team structure, what legal framework do you follow to protect your intellectual property?
The source code of Vite and ViteX is fully open-source. Others have inspired Vite to innovate. So we hope our innovation will inspire others to do the same.
While it's healthy to not worry about the price during the mainnet development phase (referring to your 2018 interview). Now that Vite is launched, do you specifically prepare for bear market scenarios? Such as the recent March or September price drops?
We have a healthy runway. We have set aside a sufficient amount of fiat for our operating expenses, most of which is R&D. As such, we are not too concerned with near term fluctuations.
After exploring Vite's ecosystem, it seems to us the current price and low market capitalization means the project is undervalued. Do you think much about VITE's price, does this affect your team's morale?
If VITE price soars, of course, this will boost the confidence of everyone in the Vite community, both investors and the team. But market forces aren't within our control. It makes more sense to focus on delivering on our roadmap, which we have control over.
Reading through the first Vite Techie Community meetup, the release of ViteX Gateway 2.0 is gathering a lot of excitement. What will this tech unlock for Vite?
The multi-sig feature of Gateway 2.0 will ensure stronger decentralization on gateways, which will enhance the security of assets for ViteX users.
From what we understand Gateway 2.0 is open source, so any developer can leverage Vite blockchain to support cross-chain transfer of crypto assets in their product?
Yes, we plan to make this open-source. So other developers can make their own gateways with our tech.
Currently, we would compare ViteX to a layer 2 DEX on Ethereum such as Loopring. They recently revealed instant swaps and future plans for liquidity pools with automated market makers – is this something we could expect to find planned in Vite 2.0 whitepaper?
We are already working on integrating with open source trading strategy projects (e.g., Hummingbot), which will further enhance the user experience on ViteX. Automated market makers are a fascinating development in DeFi. We currently have a traditional maker/taker model in ViteX but will study whether AMM makes sense as a complementary offering.
One of the main attractions to using ViteX, is that 100% exchange earnings are distributed to VX token holders in ETH, BTC, and USDT. We assume the dividends distribution model is why several major crypto regions (China & USA) cannot legally be served. Do you not worry if this choice may have a negative impact on ViteX adoption?
We work in compliance with local laws. Regardless of our emotions, this is what we must do to protect the platform, so it can sustainably serve our users.
The release of zero fees trading for stablecoin pairs (USDC/USDT, DAI/USDT, BUSD/USDT) seemed to be perfectly timed, given the high transaction costs traders face on other DEX protocols. Does your team have a mindset of "we are an Ethereum killer" or do you see a future of blockchain interoperability?
A likely scenario of our industry is co-existence of many blockchains, each serving a different set of use cases. That said, Ethereum needs to solve its problem of high fees, and ETH 2.0 seems to be coming to its rescue there (just not sure when it will ship).
We note Vite has also been actively collaborating with governments at regional and national levels. We think the latest was an initiative with Inclusive Value Ledger in New York, have the talks been positive?
Yes, we are in active contact with the state assembly member on this matter. In addition, our team will be partaking in a talk with Mr. Andrew Yang, the previous American presidential candidate, on how blockchain can be a crucial element for upgrading software systems in the public sector.
We would assume your pilot scheme with the American city of Syracuse to build Syracuse Coin, would have involved many interactions with people who know little about cryptocurrency. How did Vite approach this challenge?
In our attempt to explain the tech, we made many analogies with centralized services, such as coupon apps. Turns out there were other city coins before us, such as the Ithaca Hour – but it's un-digitized and centrally controlled, and its operation lacks the transparency we were hoping to provide.
You have stated that Vite is being used to fight Covid-19 outbreaks in China (Anti-epidemic Materials Tracing Platform), this is an amazing use case for blockchain adoption. Could you elaborate on how this happened?
In response to the nationwide crisis, we wanted to make our share of contribution, and so we created a website that tracks donation of products (product description, donor data, shipment information) on the Vite chain. This way, the information is transparent, immutable and available on a real-time basis.
Community Questions
If we are using historical figures to analogize blockchain projects, who would Vite be?
James Watt did not invent the steam engine but made crucial modifications to the original design, and subsequently popularized his invention. We think of ourselves as the James Watt of blockchain.
Will VX be listed on a high volume exchange such as Binance?
Yes, we've been in discussion with high profile exchanges such as Binance. Note that VITE is already listed there.
Does holding VX provide any other benefits other than dividends?
VX has value as well, and there's plenty of liquidity to trade it.
Are there any plans for a fiat on ramp to be integrated into ViteX?
Yes, once we prove out user interest, we will do this integration. We have been speaking with many on-ramp providers.
That wraps up our interview, thank you for your time. Do you have any closing words you would like to leave with the community?
ViteX operators will keep adding new and interesting coins to the exchange. Keep an eye out for them and enjoy trading at unparalleled speed and low cost on a truly decentralized exchange. And remember, all this is made possible with the solid foundation of the Vite technology.