Monolith Card Review: DeFi Visa Card
Monolith Card Review: DeFi Visa Card for payments. Exploring one of the best options for Ethereum users to use a crypto debit card.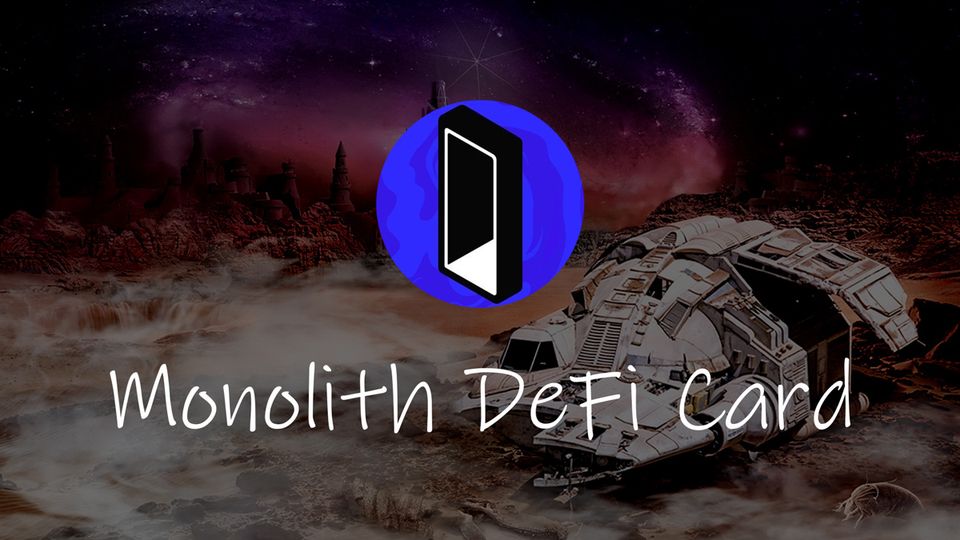 Monolith is the first non-custodial wallet that provides the financial independence of DeFi connected to a Visa debit card. Essentially, it is a 100% decentralized Ethereum (ETH) wallet that enables fluid spending of cryptocurrency by topping up a Visa card. Here will review the Monolith Card to explore if it is a viable crypto debit card solution for you.
What is Monolith Card?
Monolith Card is an innovative crypto debit card aimed at DeFi enthusiasts on Ethereum. The first thing to know is that it does not support Bitcoin (BTC). However, the wallet supports ETH and all ERC-20 tokens. Meaning you can hold Aave aTokens to earn interest or hold Bitcoin in the form of renBTC. You can use Monolith to buy Maker's DAI stablecoin instantly with zero trading fees. However, it can't be used to buy other cryptocurrencies with fiat.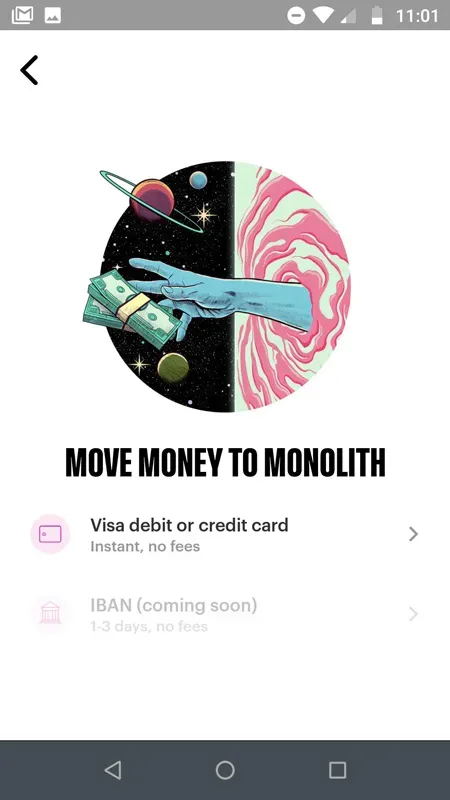 The idea is that by bringing decentralized financial products together with a Visa debit card, users can transition to becoming bankless. You load up your Monolith Card by trading ERC-20 tokens for fiat currency (GBP or EUR). And there are no purchase fees when spending GBP or EUR, as long as it's not a foreign currency transaction.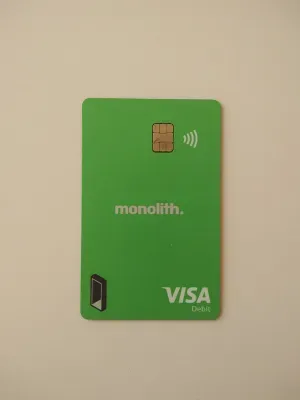 Uniquely, the Monolith Card is connected to a non-custodial Ethereum contract wallet. This means you never give up ownership of your cryptocurrency. When you install the App, you will go through the wallet set up to create your DeFi smart contract wallet. This gives you a great amount of control, but it does mean you alone are responsible for keeping your private key safe. Essentially, there is no password reset functionality: if you lose your recovery phrase then your funds will be lost!
Monolith Card Review
Advantages
Accepted pretty much worldwide as its Visa card.
No monthly fees.
Sign up and delivery are FREE.
Contactless payment support.
Supports PayPal, Google Pay, and Curve.
In-built crypto on-ramp for buying DAI stablecoin.
Swap between ERC-20 tokens quickly through the apps DEX aggregator.
Non-custodial Ethereum (ETH) contract wallet.
Disadvantages
No rewards or cashbacks for using the card.
Gas prices on Ethereum make loading small amounts pointless.
Up to 2% top-up fee to load the card.
Requires manual preloading into fiat.
Currently, the card is only available for UK and EU residents.
Funding Sources
Though you can hold any tokens in the wallet, only a select few are available to top-up your card. These are the Ethereum based tokens you can exchange for fiat:
Ethereum (ETH)
Monolith (TKN)
Dai (DAI)
DigixDAO (DGD)
Digix Gold Token (DGX)
Maker (MKR)
Tether (USDT)
However, don't worry if your preferred tokens are not on the list. Monolith Wallet has an in-built DEX aggregator which is powered by Paraswap. As a result, you can easily swap to a supported funding source when you wish to top-up your card.
You can learn more about the token swapping process here.
Monolith Card Fees
There are no monthly management fees and setting up your DeFi Visa Card account is free. There is no transaction fee when using the card's fiat currency, but you will pay a 1.75% transaction fee if it's a foreign currency transaction. This is reasonable, compared to a bank, though some competitor's bitcoin debit cards do not incur these charges.
Here are other fees users should be aware of for the EUR Monolith Card.
Fees
GBP Monolith Card
ATM Charge (GBP)
2 FREE withdrawals, thereafter €1.50 per withdrawal.
ATM Charge (International)
€1.50 (in EUR)
Approx. €2.00 (other currencies)
ATM Withdrawal Limit
€350 per day
Card Loading Fee
Normally 1%
0% if using DAI, USDC, or USDT
Community Contribution
Normally 1%
0% if using TKN
Daily Spend Limit
€7600
And here are the spending limits to be aware of: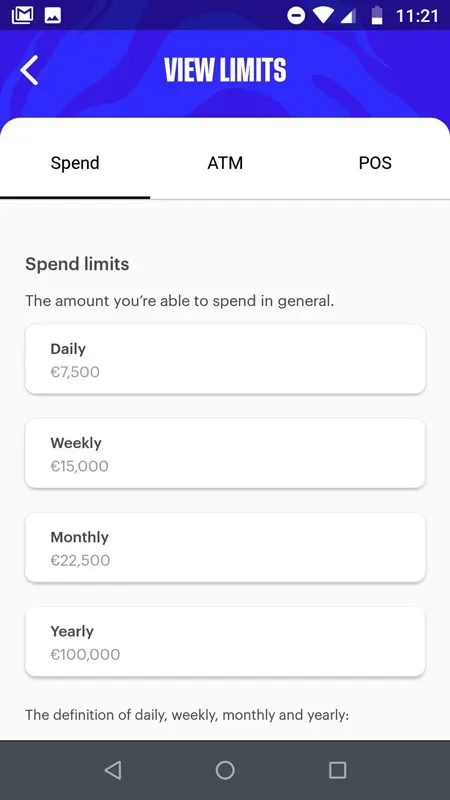 Unfortunately, this is the worst part about Monolith, as compared to Swipe Wallet or Wirex the card top-up fees are higher. You can partially eliminate it by using DAI or USDT to top up your card, but you will always pay at least 1% in fees. And that is before you take into account network transaction fees.
The community contribution fee is always applicable unless you're topping up the card with Monolith (TKN). This is a fee that goes into the community chest. However, if you're a TKN holder then this might not be a bad thing. Token holders can choose to burn their TKN and receive a proportion of what's in the community chest. If Monolith adds support for more countries and sees worldwide adoption then this part of TKN's tokenomics could be very rewarding.
Summary: Best Crypto Debit Card?
Monolith Card is a unique product that we definitely recommend if you're invested in the Ethereum DeFi ecosystem. It's especially useful if you receive income in cryptocurrency or are happy to only purchase DAI as your fiat-crypto onramp. The peace of mind that Monolith cannot confiscate or freeze your cryptocurrency is also very appealing. Additionally, if you're a big yield farmer then it can make spending your liquidity mining rewards so much easier.
But it is very difficult to overlook the higher card fees found on Monolith. It means you will pay up to 2% in fees whenever you load up your card plus blockchain transaction fees also. Sure the high Ethereum network fees we currently face are not Monolith's fault, but it doesn't make adoption for their DeFi visa card any easier.
To give you some perspective, Swipe doesn't charge you any additional fees to top-up your card, and it's automatic. Furthermore, there is a cashback reward every time you spend with your card.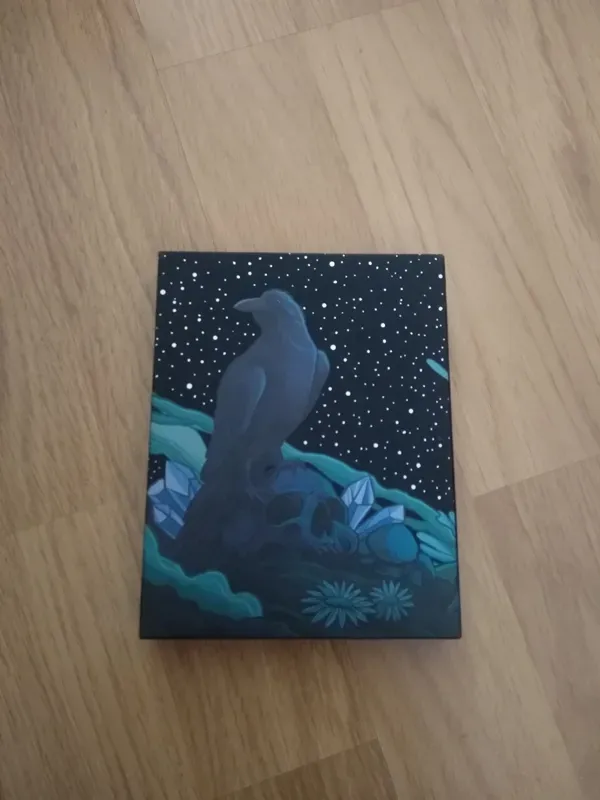 That being said, there is a lot to love with Monolith – especially the artwork and if you're already a heavy Ethereum ecosystem user. Furthermore, future upgrades will provide you with full banking details to immediately convert your regular salary into a stablecoin.
How to sign up?
Believe the Monolith Card is the right option for you? Download the iOS or Android app to sign up today.
If not? Check out our other crypto card reviews.