What is DexTools? DEXT Token Review
What is DexTools? Overview of the must use DeFi App for any Uniswap and Sushiswap trader, powered by DEXT token.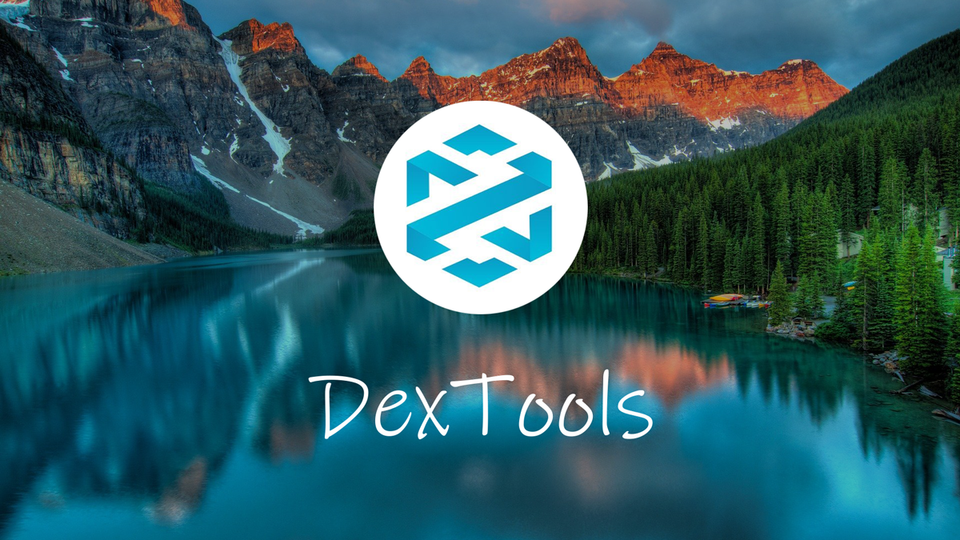 💡
This post is a sponsored article. The post is not financial advice and simply aims to provide a summary of available information. Readers should do their own research before taking any action.
DexTools provides real-time analysis for crypto assets trading on decentralized exchanges. It's a must-use tool for any trader swapping tokens on Uniswap or Sushiswap. Here we will provide an overview of the DeFi App's key features, along with reviewing its native token DEXT.
What is DexTools?
In the early days, you could say DEX trading was being done blind because there was no analytical infrastructure to generate charts or order book depth. Of course, you can follow the network transactions, as it's all on-chain. However, it's hard to filter out the relevant information quickly enough for a positive impact on your trading strategy. This is where DexTools bridges the gap for you. Enabling users to monitor big spreads on pool pairs, anticipate market movements by following whale wallets, or even alerts for copying the most profitable wallets.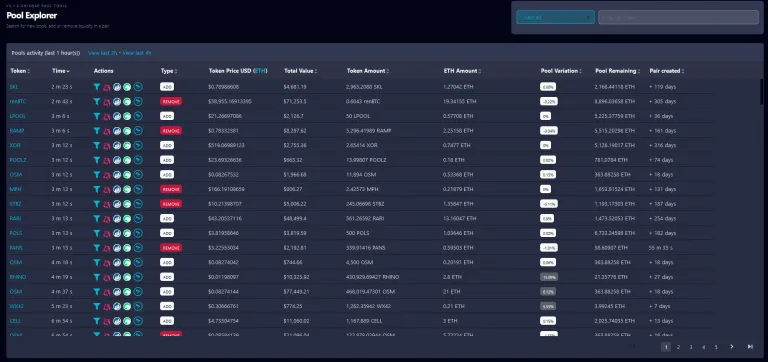 Starting as a grassroots project for monitoring IDEX, the team quickly grew a following and pivoted its focus on supporting multiple DEXs. Today we find it to be an essential hub for DeFi trading, analytics, and an official partner of CoinMarketCap. Amazing to think how fast this project has grown, and where it will be in another year!
DexTools Features
DexTool provides a complete overview of a token's key analytics to improve your trading strategies, here are the key features:
Pool Explorer: Find trending pools easily to find new gems and quickly see the total value in a pair's pool. Additionally, you can monitor liquidity adds and removes which is a great way to know how bullish/bearish to be on a token. Plus all the important links such as the token's Etherscan or Uniswap page are in one place. Making it easy for you to verify information. There is also a quick link to see if the pool has locked liquidity via UniCrypt.
Pair Explorer: Follow trade history and price action charts in real-time, along with keeping tabs on your favorite tokens. DexTools also generates a score for token pairs which can help investors avoid obvious scams. Standard and Premium members can also set up decentralized limit orders or use algorithmic trading bots.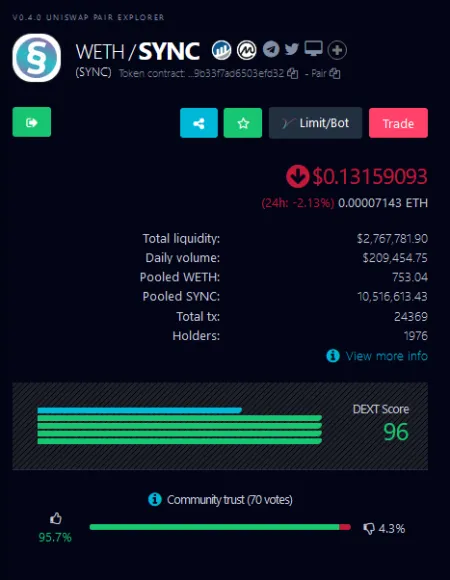 Big Swaps: This tool tracks big swaps, aka whale trades. For example, monitoring big sell swaps can help you time your buys to catch the dips!
MultiSwap: No need to have open multiple browsers and tabs, with DexTools you can interact with multiple pairs on one screen.
Notifications: Price alerts for your favorite tokens are possible via Desktop, Mail, or Telegram. This is a vital tool to improve your DeFi trading strategies as currently no DEXs support stop-win or stop-loss orders. Furthermore, it's straightforward to set up in just a couple of steps, check out this guide.
Tracking: It's hard to track your positions across all those Altcoins! Especially if you're buying tokens to move around farming pools. DexTools makes it easy with an in-built P&L tracker for your positions. Having a trade journal is one of the best ways to document trade decisions, hold yourself accountable, and improve your trading strategy over time.
DEXT Tokenomics
The main use case for the DEXT token is to access the subscription tiers which unlock all the DeFi App's features. For example, paying users can have an unlimited amount of favorite pairs, create limit orders, access Velox trading bots, and much more.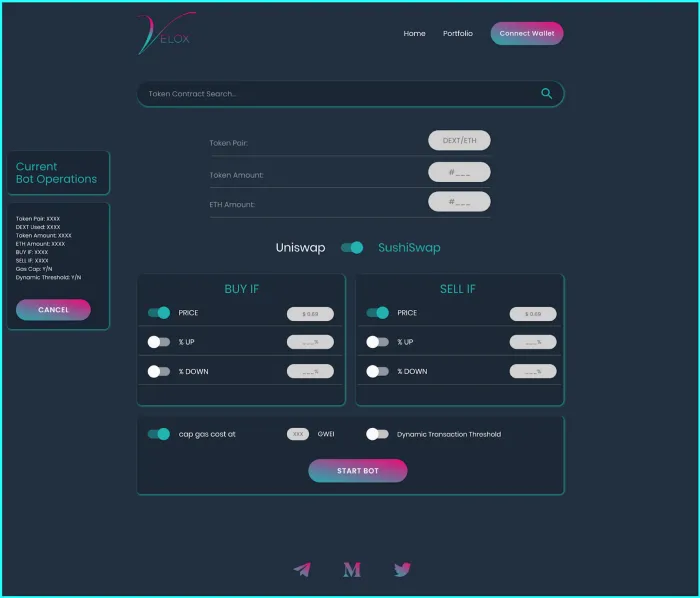 There is a total supply of 149,767,070 DEXT and the token's economics are deflationary. Because, the team burns 10% of all collected subscription fees. Users have several options for subscriptions such as paying a monthly amount of $150 in DEXT or simply holding 20,000 DEXT for the Standard tier.
The Premium tier, which requires holding 100,000 DEXT also unlocks two special features DEXTShare and DEXTForce.
DEXTShare
A big part of DEXT tokenomics is its premium revenue sharing model. Essentially, holders of 100,000 DEXT receive the remaining 90% share of the subscription revenue proportionate to their holdings. What's great about the team's approach is there is no need to lock up or stake DEXT tokens to earn the reward. Every month a snapshot is taken and premium holders receive the DEXT tokens via airdrop. Pretty much a passive income stream without needing to pay any gas fees! Additionally, team wallets are not included in the profit sharing which means the revenue is being shared 100% with the Premium users.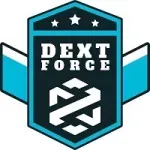 DEXTForce Ventures
Another benefit of being a premium holder is the opportunity to participate in presales as a group and not as an individual. These might be exclusive private sale allocations or seed rounds for early-stage projects that have been properly vetted by the DEXTForce team. To summarize quickly, the aim is for DEXTForce Ventures to create meaningful long-term partnerships that spur the next DeFi innovations.
Looking to the future
What we can say from using the tool is that DexTool's development team knows what they're doing. Some talented builders! And the roadmap for 2021 is jam-packed. Furthermore, the project has an impressive list of partners in the DeFi space: 1inch Network, Ferrum Network, Syncbond, and more – it will be interesting to see the collaboration grow.

One analytical tool that may change the game for DeFi trading completely is mempool monitoring. Essentially, these are transactions that are waiting to be confirmed. This means if you could filter them quickly, you would know token swaps ahead of time. As a result, it could be quite a powerful tool to improve your trading strategy. Also, note the roadmap mentions support non-fungible tokens (NFTs) which is a sector seeing incredible growth right now.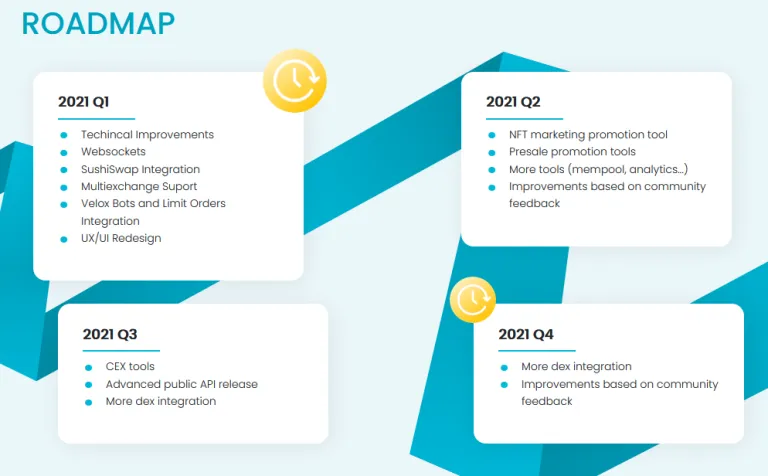 More DEXs: Don't forget CoinmarketCap is now owned by Binance, and DexTools is partnered with CMC. Therefore, we would guess Pancakeswap on Binance Smart Chain will be integrated soon. Recently, the team announced they've upgraded their backend to support more users which would indicate releases are coming.
Another key integration would be a 1inch Network, as they're a cross-chain DEX aggregator that would ensure DexTools becomes embedded in the whole DeFi ecosystem. Mooniswap is on the team's list of upcoming integrations which is an AMM built by 1inch, so it looks like its all happening!

CEX Tools: The team is also branching out to support the centralized exchange KuCoin in an upcoming update. While DeFi is growing at a tremendous pace, the majority of crypto trading still happens on CEXs, so this could bring a big influx of users to DexTools. Remember more DEX and CEX integrations will bring in more users, which leads to more revenue and bigger DEXT burns. And perhaps this leads to DEXT being listed on KuCoin? Recommend watching their announcements closely!