Plutus Card Review: Best Crypto Debit Card for ETH?
Plutus Card Review: Best Crypto Debit Card for ETH users? Exploring the Visa card offered by Plutus for spending Ethereum.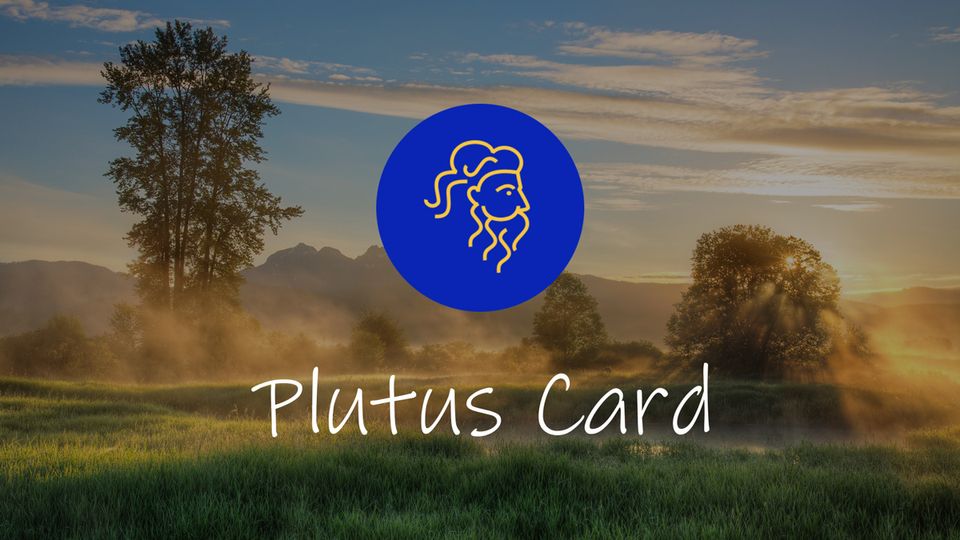 Plutus Card is a unique crypto debit card aimed at decentralized finance (DeFi) and Ethereum enthusiasts. Read through our Plutus Card review and learn if this is the best cryptocurrency debit card for Ethereum users. And if it will be suitable for you!
What is Plutus Card?
The Plutus debit card markets itself as a next-generation financial application for cryptocurrency users. With their account, you can manage both fiat currency (GBP or EUR) and cryptocurrencies. Excitingly, you always remain in control of your crypto assets and never have to deposit into the platform. Plutus achieves this by enabling you to trade peer to peer with other users via a decentralized exchange when converting between fiat and crypto. One drawback is currently the only supported cryptocurrencies are Ethereum (ETH) and Pluton (PLU). As a result, this crypto debit card is only suitable for ETH or PLU holders.
Here is how the Plutus Visa Card looks: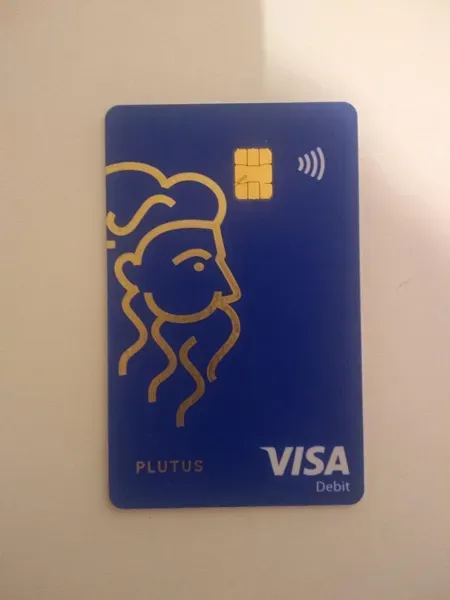 Plutus Card works like a prepaid ETH debit card, it does not support spending crypto automatically like Wirex. Additionally, you will not find support for other major cryptocurrencies such as Bitcoin (BTC) or Binance Coin (BNB). Furthermore, as this card is only available for UK or EU based residents you can't convert your holdings to US Dollar (USD) either. Currently, the supported fiat currencies are Euro (EUR) or Sterling (GBP). On the plus side, you can sign up and create your account within minutes. And Plutus will provide you with local bank details for your fiat depending on your location. This means that Plutus Card can easily become a fiat on-ramp for your cryptocurrency spending and investing purposes.
Plutus Card Review
Advantages
Non-custodial wallet.
Load fiat 100% decentralized via PlutusDEX.
Fast verification (Be approved in 2 minutes!)
Manage your account online and via App.
Cashbacks and crypto PLU rewards.
Contactless Visa Card.
Support for Samsung and Google Pay.
No monthly fees, unless you want premium.
The account includes UK bank details or European IBAN.
Disadvantages
UK and EU residents only.
Ethereum only.
No rewards or cashback for the free tier.
€9.99 Card Order fee.
1.75% trading fee.
Low volume means large fiat top-ups are unfeasible.
Can't instantly exchange to fiat as trading is a peer to peer.
No support for Apple Pay.
Funding Sources
You interact with your Plutus Card account using Metamask, so in that sense, you can manage Ethereum and any ERC-20 token. However, Plutus Card is not a crypto debit card that can spend your ETH instantly. First, you have to use PlutusDEX to sell your ETH or PLU for fiat. So your funding sources are only limited to Ethereum and Pluton (PLU) tokens. Once you have the fiat currency in your account, then you can load it onto your Visa Card balance. Meaning Plutus Card works is a prepaid cryptocurrency debit card very similar to Monolith or Eidoo.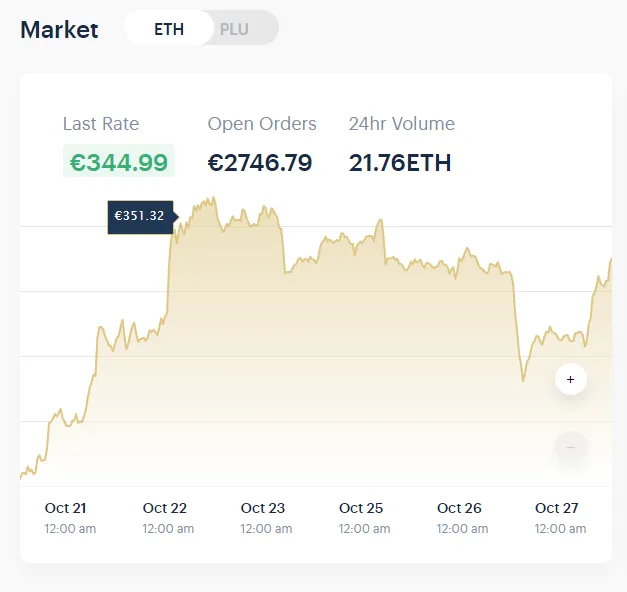 The only problem is you're at the mercy of their decentralized exchange's low volume. If there are no traders buying then you will not be able to top up your card using Ethereum or Pluton tokens. However, you can fund your account directly with fiat currency via bank transfer – but that kind of defeats the purpose of a crypto debit card, right?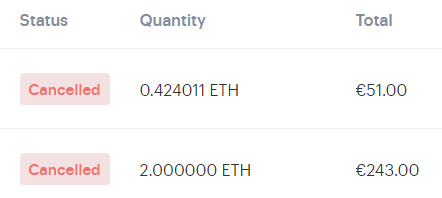 Personally, I had to cancel my attempts of trying to sell ETH for fiat after several hours as there were no buyers (Note this was some months ago and volume HAS increased).
We should note that Team Plutus is aware this is a major obstacle for their Ethereum debit card adoption. Upcoming November announcements should include a Market Maker incentive for PlutusDEX – hopefully, this will boost volume.
Plutus Card Fees
Another difference with Plutus compared to competitors such as Wirex and Swipe Wallet, is that they follow a monthly subscription model for premium accounts. For example, Premium users receive their card for free and do not pay any trading fees.
Here are the fees and limits you should be aware of.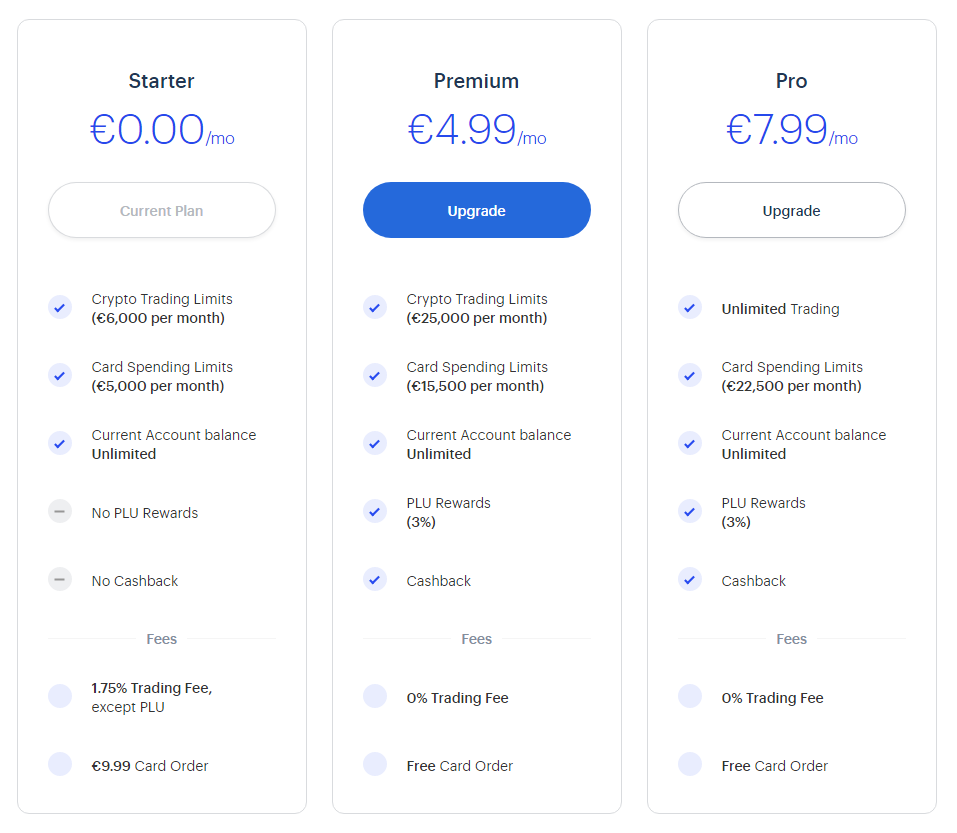 As with many cryptocurrency card providers the fees and limits can change depending on your region, learn more on their website.
However, the main benefit of paying for a premium account is to receive the 3% crypto rewards in PLU tokens. Additionally, Plutus Card premium and pro holders receive up to 15% cashback with select retailers.
Summary: Best Crypto Debit Card for ETH users?
I do want to like this product, there is an immense appeal to truly being bankless. Which Plutus Card enables you to do by staying 100% decentralized, even when exchanging crypto for fiat. Additionally, the option to manage my account from the website and the App is something Monolith does not provide.
However, it's impossible to look past the fact that I was not able to spend my crypto! You also need to factor in blockchain transaction fees when securing a crypto-fiat conversion. Additionally, the subscription-based model to enable cashback seems out of place – why not let users stake PLU tokens? Much like how SXP tokens work for Swipe Visa Cards. Granted daily volume and open orders are rising, which is a great sign things will change in the future.
Furthermore, the team's roadmap for 2021 looks very exciting with aggressive expansion planned into Asia and Latin America. As the active user count goes up, surely this will improve our overall Plutus Card review for now you may want to look at a different DeFi crypto card option.
How to sign up?
Believe the Plutus Card is the right debit card to spend crypto for you? Open your account and sign up for free today.
If not? Check out our other crypto card reviews.