Coinbase Card Review: Pros and Cons
Coinbase Card Review: Pros and Cons for spending cryptocurrencies instantly with this crypto debit card. Is this the best Bitcoin Visa card?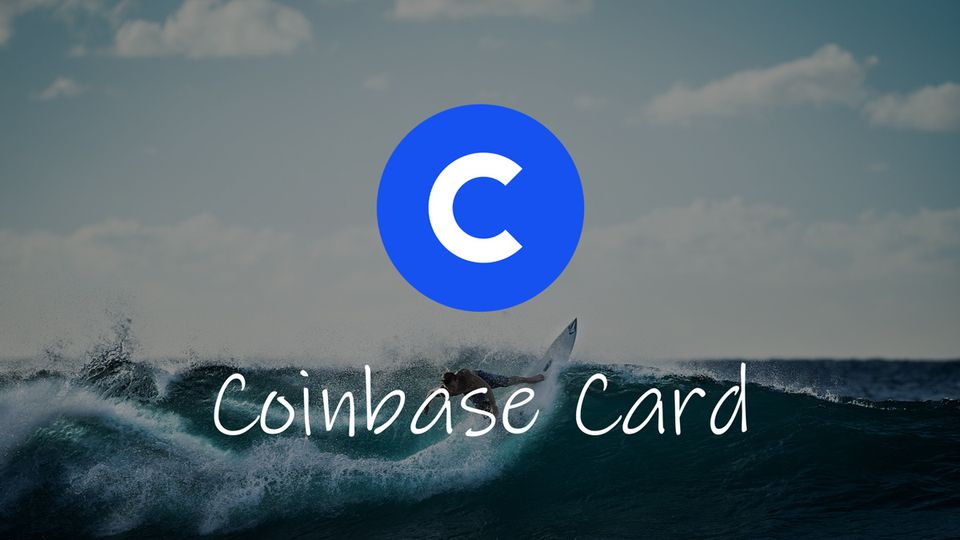 Coinbase Card enables you to spend cryptocurrency instantly with a Visa debit card. Essentially, as if it was fiat currency in your bank. Linked to your Coinbase Wallet, many see it as one of the best crypto debit cards on the market – but is it? Here we will look at the pros and cons with a review of Coinbase Card for your Bitcoin Visa card needs.
What is Coinbase Card?
Coinbase is one of the largest cryptocurrency exchanges on the market. Following the trend set out by Binance Card, they also have their own crypto debit card which as you may have guessed: Coinbase Card. Currently, it is only available in Europe, the UK, and very soon will launch in the US. For heavy Coinbase traders who may regularly buy high amounts of Coinbase's US dollar-pegged stablecoin USDC, this may be one of the best bitcoin debit cards. Because the card does not charge any fees when converting USDC to fiat currency. However, for spending any other cryptocurrencies then you will be hit with a hefty 2.49% transaction charge.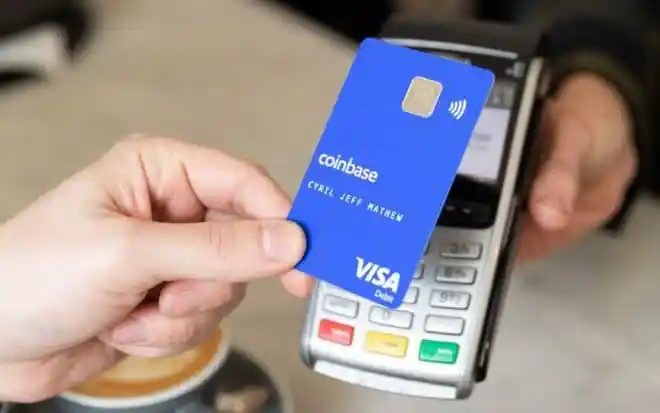 Although it is not the cheapest crypto card available, it does enable quick spending without the need to manually top up your card like Monolith or Plutus. There is no need to keep a fiat currency balance, Coinbase Card will automatically spend your BTC, ETH, LTC, or BCH. Essentially, this card enables you to spend your coins as easily as if it was money in your traditional bank account.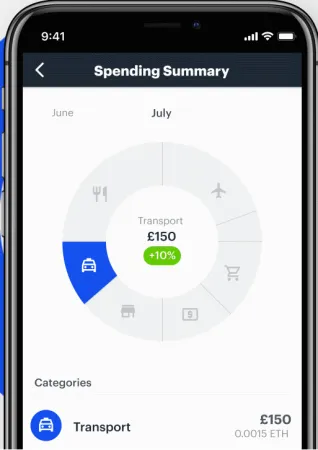 Furthermore, Coinbase is a well-known entity in the industry so users will not have any fear of their card product disappearing overnight. However, there is no cashback or reward scheme available for Europeans. Only US users will be able to earn 1% cashback in BTC or 4% cashback in Stellar Lumens (XLM). As a result, if you're based in Europe you should definitely consider other options for a crypto visa card such as Wirex or Swipe.
Coinbase Card Review
Advantages
A trusted brand in crypto.
Pioneers of the industry.
Contactless Visa card
Seamlessly connects to your Coinbase crypto wallets.
Available in the UK and EU.
Launching soon in the USA.
The app makes it very easy to track your spending (summaries, receipts).
Google Pay support.
No fees when spending USDC stablecoin.
Disadvantages
FEES
No support for Apple Pay.
Higher exchange fees than competitors (2.49%).
Foreign transaction fees.
Physical card order fee (£4.95 or €4.95)
No cashback*
*The upcoming Coinbase Card in the US will earn users 1% cashback in Bitcoin (BTC) or 4% cashback in Stellar Lumens (XLM). You can sign up for the waiting list! Additionally, it enables zero-fee spending for USDC stablecoin.
Funding Sources
Your Coinbase account is connected to your Coinbase Card, currently, you can spend the following cryptocurrencies instantly online or in-store.
Bitcoin (BTC)
Ethereum (ETH)
Litecoin (LTC)
Bitcoin Cash (BCH)
Ripple (XRP)
Basic Attention Token (BAT)
Augur (REP)
0x (ZRX)
Stellar (XLM)
Furthermore, Coinbase supports deposits from bank transfers such as SEPA or an ACH transfer. You can make a fiat currency deposit to buy supported cryptocurrencies, which you can then spend instantly with your Visa card.
Coinbase Card Fees and Limits
Here are the most important fees associated with using Coinbase Card, which you should be aware of. Note that much like other cryptocurrency debit card solutions, fees can depend heavily on your region, you can read through all of the fees here.
Fees
Amount
Card Issuance Fee
£4.95
ATM Withdrawal Fee (Domestic)
Free (up to £200/month)
1% (any amount over £200/month)
ATM Withdrawal Fee (International)
Free (up to £200/month)
2% (any amount over £200/month)
Transaction Fee (Domestic)
Free
Transaction Fee (Inside EU)
0.2%
Transaction Fee (International)
3%
Crypto Liquidation Fee
2.49%
And here are the limits on spending.
| Limit | Amount |
| --- | --- |
| Daily Spending Limit | £10,000 / €10,000 |
| Monthly Purchase Limit | £20,000 / €20,000 |
| Yearly Purchase Limit | £100,000 / €100,000 |
| Daily ATM Withdrawal Limit | £500 / €500 |
As we can see Coinbase Card does offer a higher daily ATM withdrawal limit than competitors. Therefore, if you're a heavy cash user then this bitcoin debit card may be the best option for you.
Summary: Best Bitcoin Debit Card?
While Coinbase Card does make spending cryptocurrency effortless, it is not the cheapest bitcoin debit card available on the market. Especially if you're located in Europe where you can receive higher rewards using Swipe or Wirex. Potentially, for US users it may become the best crypto debit card given the high 4% cashback and zero fees for USDC spending.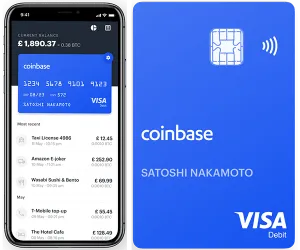 The worst part about this card is that even spending your crypto assets in your own country incurs a 2.49% cryptocurrency exchange fee. Not to mention if your outside of your country, then you will be hit with an additional fee!
The fees are very high and make it seem like Coinbase is quite greedy!
Given that crypto debit cards are still rather new, and we now have the emergence of DeFi Visa Cards also – the sector is very competitive. Many alternatives, such as Crypto.com, are waiving all their fees as they aggressively want more users to sign up. That being said, you can't put a price on the security of using an industry leader's product.
How to sign up?
Believe our Coinbase Card review is the perfect option to spend crypto instantly with a Bitcoin debit card? First, you will need to create a Coinbase Account, which you can do for free by signing up here.
If not? Check out our other crypto card reviews.