Crypto.com Card Review
Crypto.com Card Review: The best crypto debit card with high cashback rewards? MCO Visa Card let's you spend Bitcoin seamlessly.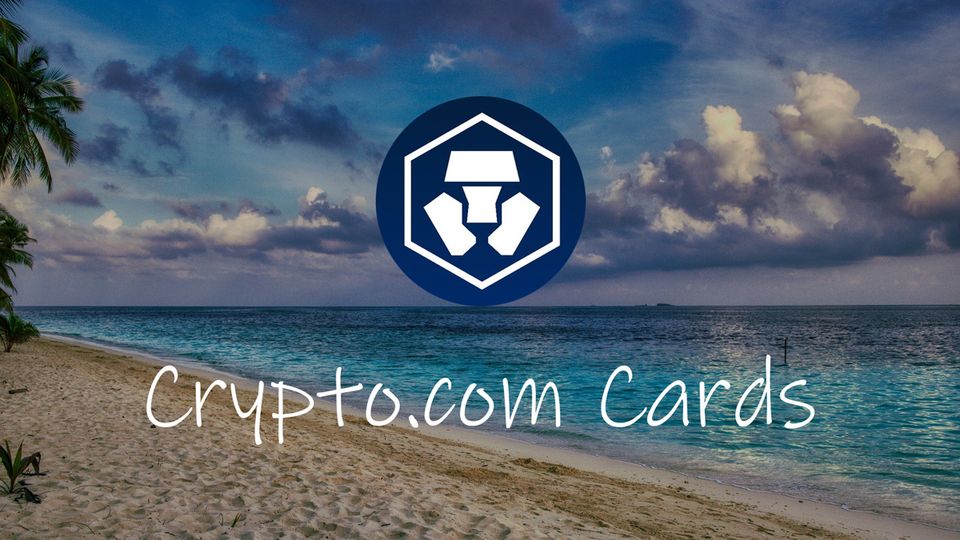 Crypto.com's MCO Visa Card is widely seen as one of the better crypto debit cards available on the market today. It features high cashback rewards, lots of perks, and is widely available. It's also becoming one of the best cryptocurrency exchanges for trading, here we will review Crypto.com card and see if it's the right Bitcoin debit card for you.
What is MCO Visa Card?
Crypto.com platform offers a lot of different products for cryptocurrency enthusiasts, you can manage crypto easily in your account and exchange between over 68 different coins. Crypto.com was previously known as Monaco (MCO) until it rebranded in July 2018. Hence, why you see some of their products using MCO as part of their name. Excitingly, the MCO Visa Card enables you to convert your cryptocurrency to fiat currency and spend it anywhere that Visa is accepted – worldwide!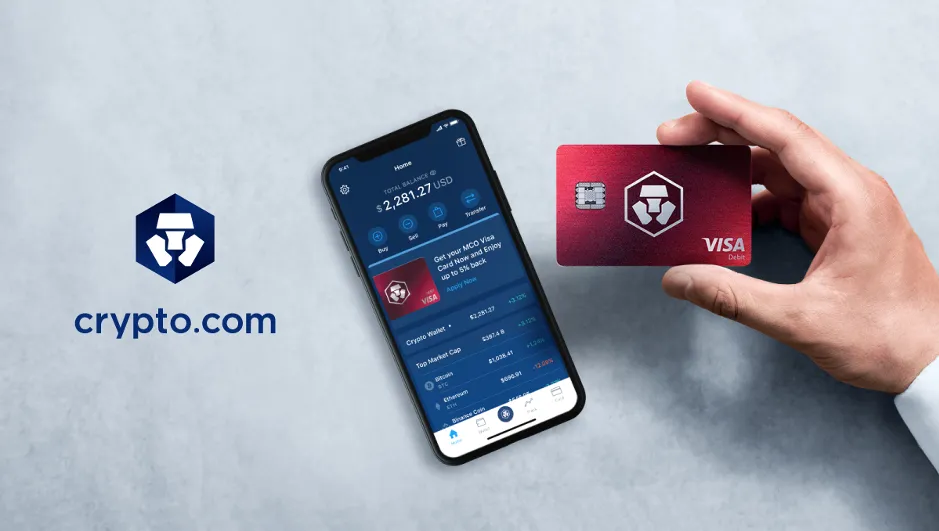 Additionally, the platform features products such as Crypto Pay that lets you seamlessly buy gift cards for any popular brands with cryptos. Or use Crypto Earn where you can deposit your cryptocurrency and earn up to 18% interest. Furthermore, users can trade on Crypto.com Exchange with extremely low trading fees (usually under 0.16%).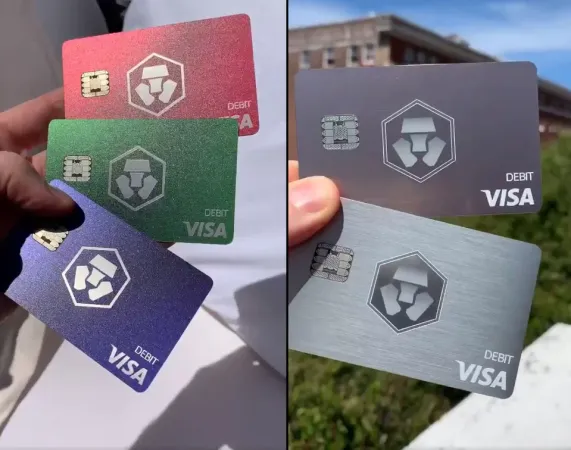 MCO Visa Card is one of the most popular cryptocurrency debit cards available, the company has over three million users worldwide. One reason is because Crypto.com cards are supported in many countries. Additionally, they are the pioneers of offering higher cashback levels for staking their native CRO token. For instance, its a tokenomic design which we now see being copied by Swipe and Wirex. In addition, there are several different Visa cards available, all with their different rewards and benefits (more on that below). However, is this the best bitcoin debit card available in the UK, the EU and the US? Read through this Crypto.com card review to find out more.
Crypto.com Card Review
Advantages
Fast KYC verification (under 5mins)
Widely available: UK, Europe, the United States, and Singapore.
Free sign up
No monthly fees.
No ATM withdrawal fees.
Up to 8% in crypto rewards (cashback in CRO tokens).
Benefits program (rebates for Spotify, Netflix, Amazon Prime etc..)
Contactless Visa Debit card.
Higher cashback of 10% with select retailers.
Google, Apple, and Samsung Pay support.
Disadvantages
Need to be happy staking a lot CRO to receive decent cashback.
Manual top up card balance (USD/EUR/GBP/SGD).
Exchange account and Card App account are separate logins.
A low star rating on Trustpilot.
Crypto Earn interest rates are lower if you don't agree to locking up your assets.
Some features* you can't access depending on your location.
* Fiat currency available for deposits & withdrawals in your account depends on your region, meaning it could be frustrating for heavy multi currency users.
Funding Sources
You can hold and manage over 68 different cryptocurrencies in your Crypto.com account, however, only a select few and stablecoins can be used to top up your MCO Visa card balance.
Bitcoin (BTC)
Ethereum (ETH)
Litecoin (LTC)
Ripple (XRP)
TrueUSD (TUSD)
TrueGBP (TGBP)
TrueAUD (TAUD)
Paxos Standard (PAX)
USD Coin (USDC)
Of course, given that there is also an exchange on the platform it is quite easy to convert your crypto assets to coins that are supported by the debit card. However, your exchange account and card app account are treated as two separate accounts. As a result, managing your balances is not as easy as with a competitor such as Coinbase Card or Binance Card.
Crypto.com Card Countries
One reason why the MCO Visa Card is seen as one of the best bitcoin debit cards on the market is because it is already widely available in various countries. Whereas, many competitors are only seen issuing cards in one region such as EU. You can sign up for free if you reside in any of the countries below.
Crypto.com card countries:
Europe (EEA zone)
United Kingdom
Singapore
United States
MCO Visa Card Benefits
This is probably the most interesting part of our MCO card review, the differences between the card tiers and the benefit programs! To understand the system quickly: the more CRO that you stake, the better tier of card you will be able to get. However, do note that all cashback is paid out in crypto rewards through CRO tokens. So you can't choose to earn it in Bitcoin like Swipe.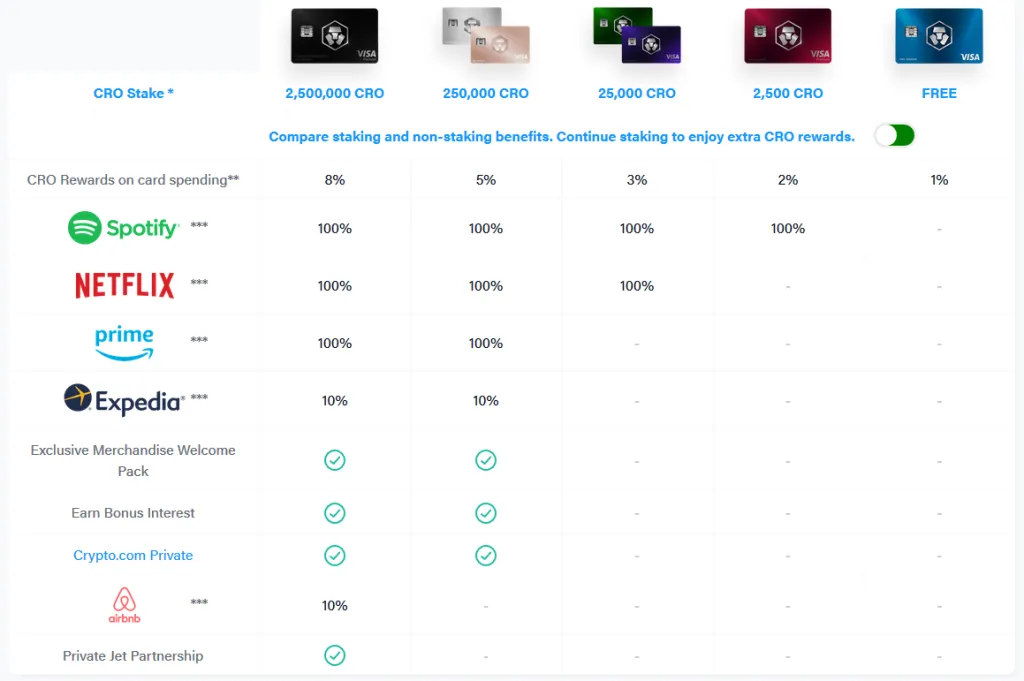 As of time of writing, the highest cashback of 8% is only available for staking 2,500,000 CRO which is roughly $195,000. As a result, this tier seems quite unrealistic for most people, however, the lower tiers also provide great rewards. For example, staking 25,000 CRO will enable you to earn 3% cashback along with rebates for Spotify and Netflix. However, the good news is even the free tier, Midnight Blue, that requires no staking will earn you a 1% cashback on all purchases.
Furthermore, your stake is not locked up forever. After 6 months, you will be able to choose to withdraw your staked CRO tokens. However, if you do decide to stop staking then you will transition to a lower cashback rate and lose additional benefits.
Crypto.com Card Fees and Limits
If you don't look at the staking requirements to receive higher rewards, then it is FREE to order and deliver your MCO Visa Card. There is no monthly fee, no domestic transaction fees, no commission whatsoever when spending cryptocurrency. In fact, if you buy a product for $200 USD then you will pay the $200 equivalent in crypto assets! Plus all the limits are extremely high.
In fact, the only real fee is a $4.95 charge if you don't use your card over a 12-month period. To summarize, MCO Visa Cards are very competitive when it comes to fees. Meaning Crypto.com card is potentially the cheapest and fairest bitcoin debit card available for spending your crypto assets.
Here are some limits that you should keep in mind.
| Limit | GBP Card | EUR Card | USD Card |
| --- | --- | --- | --- |
| Maximum Card Balance | £22,000 | €25,000 | $25,000 |
| Daily Top-up Limit | £22,000 | €25,000 | $10,000 |
| Weekly Top-up Limit | £22,000 | €25,000 | $25,000 |
| Yearly Top-up Limit | £220,000 | €250,000 | – |
| Daily ATM Withdrawal Limit | £1,800 | €2,000 | $500 * |
| Weekly ATM Withdrawal Limit | £9,000 | €10,000 | $5000 * |
| Yearly ATM Withdrawal Limit | £66,000 | €75,000 | – |
| Daily ATM Withdrawal Frequency | 3 | 3 | 3 |
| Monthly ATM Withdrawal Frequency | 30 | 30 | 30 |
| Yearly ATM Withdrawal Frequency | 360 | 360 | – |
Additionally, ATM withdrawals are free but do have a limit. After you go over the limit then there is a 2% fee.
| Card Type | GBP Card | EUR Card | USD Card |
| --- | --- | --- | --- |
| Midnight Blue | £180 | €200 | $200 |
| Ruby Steel | £360 | €400 | $400 |
| Royal Indigo | £720 | €800 | $800 |
| Jade Green | £720 | €800 | $800 |
| Icy White | £720 | €800 | $1,000 |
| Rose Gold | £720 | €800 | $1,000 |
| Obsidian Black | £900 | €1,000 | $1,000 |
In other words, if you're a heavy cash user then you will want to ensure you're staking enough CRO tokens to receive a higher tiered card such as the Jade Green, Rose Gold, or Obsidian Black.
Summary: The Best Crypto Debit Card?
There is a lot to like with Crypto.com app, exchange, and MCO Visa Card especially as they cover a wide range of cryptocurrency services. As a result, you can use Crypto.com as a savings account earning interest and also to spend your Bitcoin instantly.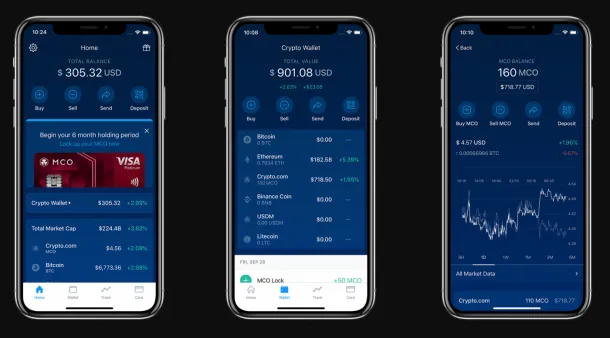 However, users looking for the best crypto debit card experience need to be comfortable investing heavily into CRO tokens. It is one of the only disadvantages found during our Crypto.com cards review. While the free options remain competitive for a cryptocurrency debit card, for the best deals and rates, you need to be staking CRO.
Zero fees or extremely low fees are impressive for a cryptocurrency debit card.
For example, you can buy Bitcoin (BTC) with 0% fees if you deposit via bank transfer to their exchange. You can then spend this BTC with your Crypto.com card while earning cashback. You can then use those rewards to buy a gift card for popular brands with up to 10% cashback! It's quite an impressive crypto platform that continues to innovate. However, users who prefer a decentralized non-custodial approach may prefer looking at Monolith or Plutus.
How to Sign up?
Believe our Crypto.com card review means the MCO Visa Card is the best option to spend your cryptocurrency instantly with a Bitcoin debit card? If you live in one of the Crypto.com card countries, step one is to create an Exchange account, which you can do for free by signing up here.
If not? Check out our other crypto card reviews.