Four Tools for NFT and CryptoArt Analytics
Four tools for NFTs and CryptoArt Analytics. Discover the best tools for trading non-fungible token data and crypto artist sales in realtime.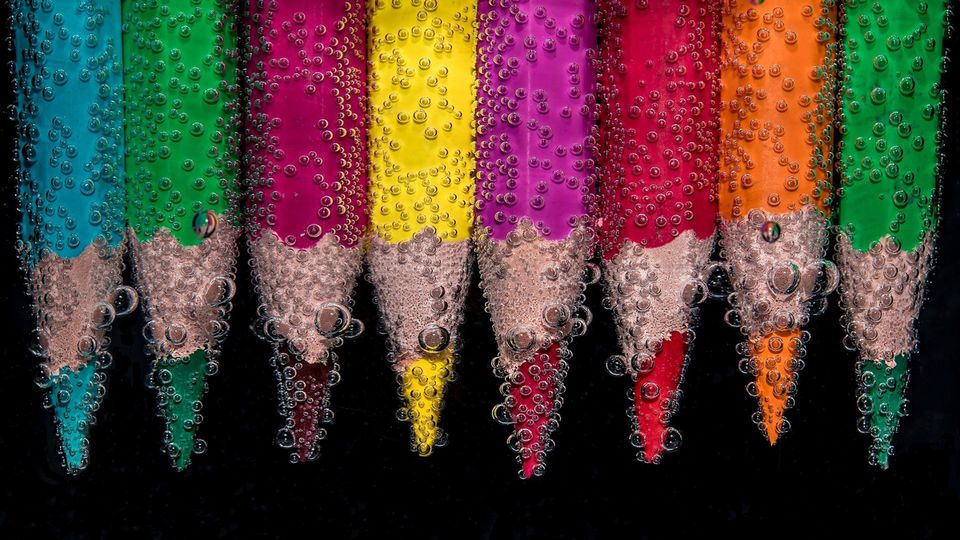 There is no denying that 2020 has been an exploding year for digital artwork powered by blockchain, the so-called CryptoArt scene. Where designers create artworks as non-fungible tokens (NFTs), enabling selling and auctioning across several NFT marketplaces living on Ethereum. Here we will take a look at four tools you can use for NFTs and CryptoArt Analytics. Learn how to track cryptoartist sales in realtime.
Activity around collecting NFTs and creating new cryptoart is soaring. It's becoming increasingly apparent that this will become the new norm for digital artwork. For example, SuperRare generated over $4 million in sales for artists this year. And just recently, Pak became the first crypto artist to earn more than $1 million.
One sector that is a little lacking is analytics providing data insights on NFTs and cryptoart. Luckily, there are projects in active development aiming to plug this gap. Here are four tools for NFTs and CryptArt analytics.
Four Tools for CryptoArt NFT Analytics
CryptoArt.io
CryptoArt.io is a new website created by Richard Chen, a partner from the crypto investment fund 1confirmation. This project tracks cryptoart data from some of the largest NFT marketplaces such as SuperRare, MakersPlace, or Async.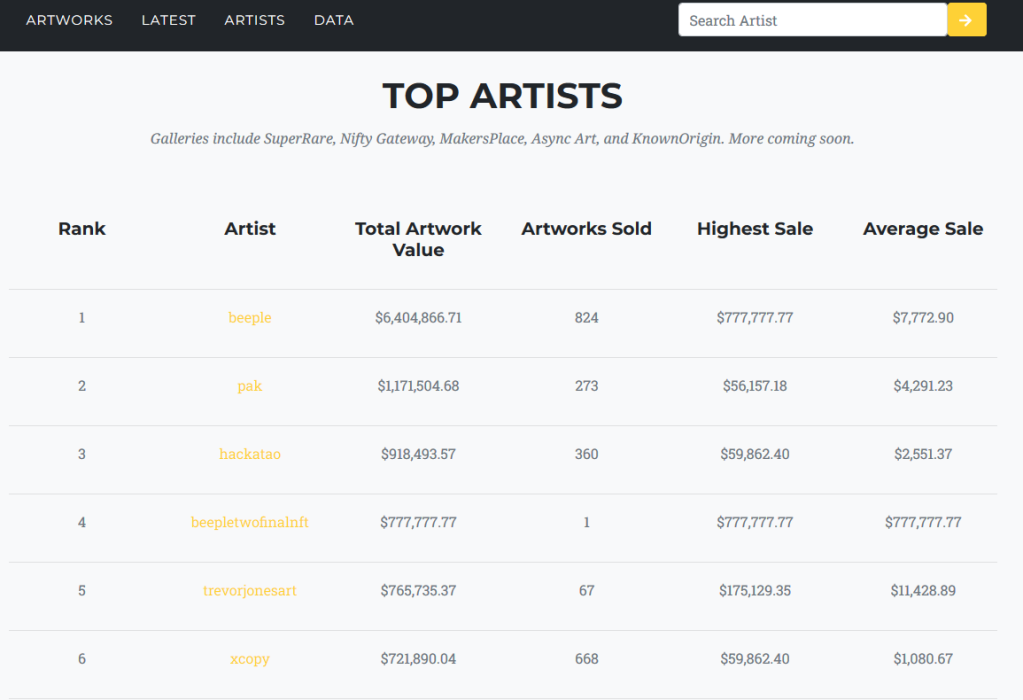 It is free to use and provides insights on thousands of cryptoartists. Such as the most expensive NFT art pieces, how many artworks an artist has sold, a cryptoartist's average sale price, and more. All valuable data that should help the scene grow by easily showcasing an artist's success. Furthermore, it helps give novice collectors a baseline when evaluating a piece's worth to make a bid.
CryptoArtPulse
A new website launched by an experienced NFT trader DCLBlogger, aims to be a complete data feed for collectors and artists. The platform enables you to track sales in real-time, along with a lot of search filters. For example, you can easily track the sales of your favorite artist.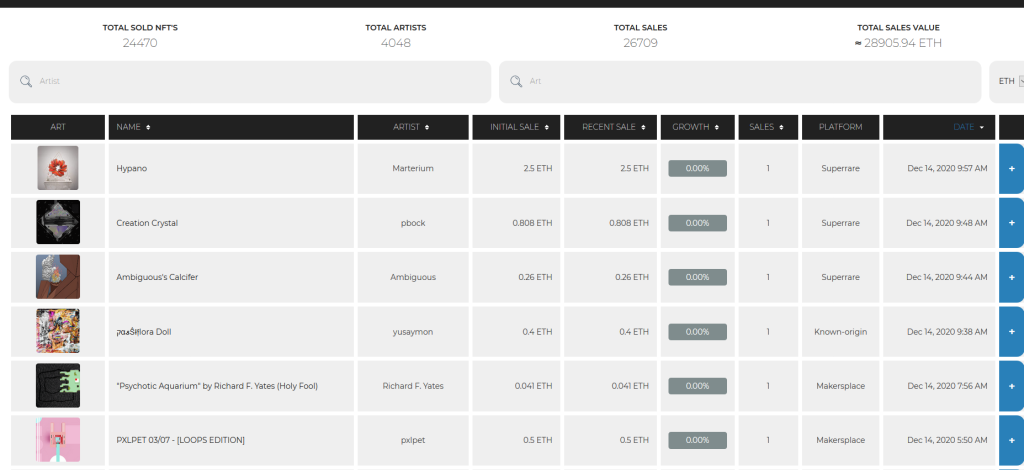 Plans include updates to help artists gain more exposure such as galleries and interviews. Essentially, NFTArtPulse aims to become a complete portal for discovering cryptoartists and more.
OpenSea Rankings
While OpenSea's main focus is to be the NFT marketplace for all forms of crypto collectibles, their rankings page is very informative. Nearly every marketplace, virtual worlds, blockchain game, DeFi+NFT platform is being tracked. It perhaps is one of the best ways to get a 360 overview of non-fungible token activity.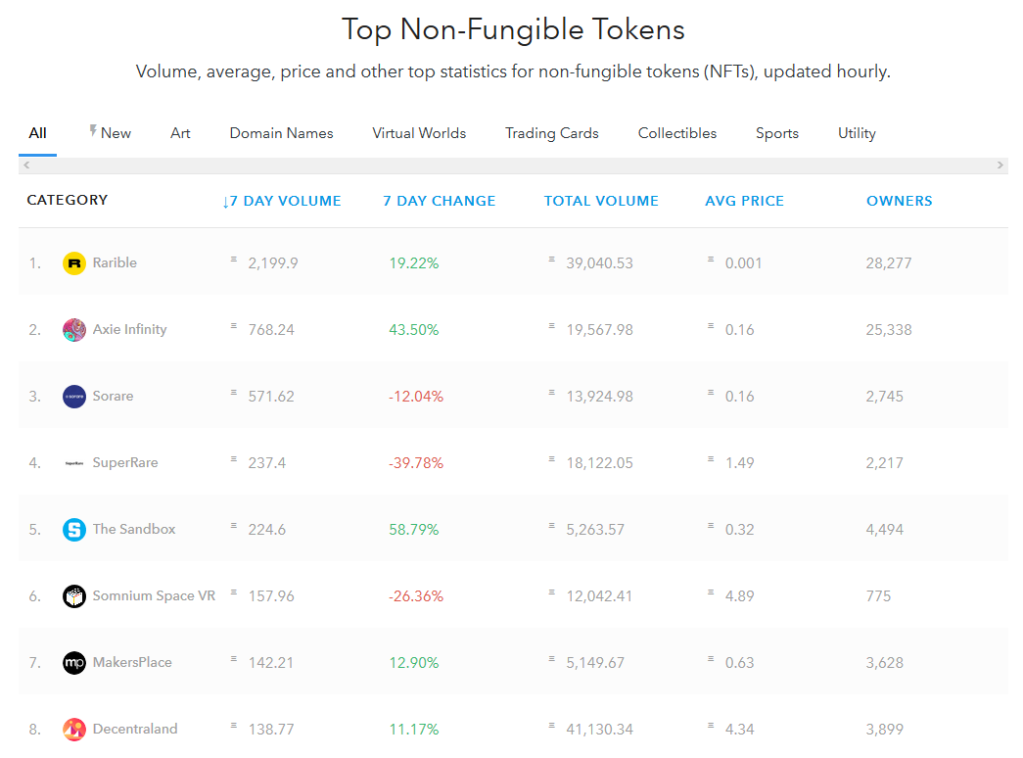 Here you can find statistics such as total sales, total listings, average price, and volumes. It's a great way to quickly assess which platforms are currently the most popular.
NonFungible.com
Launched originally as a way to track sales in Decentraland in 2018, the project quickly evolved to tracking the whole NFT ecosystem. Here you can find a complete sales history of any platform dealing with non-fungible tokens.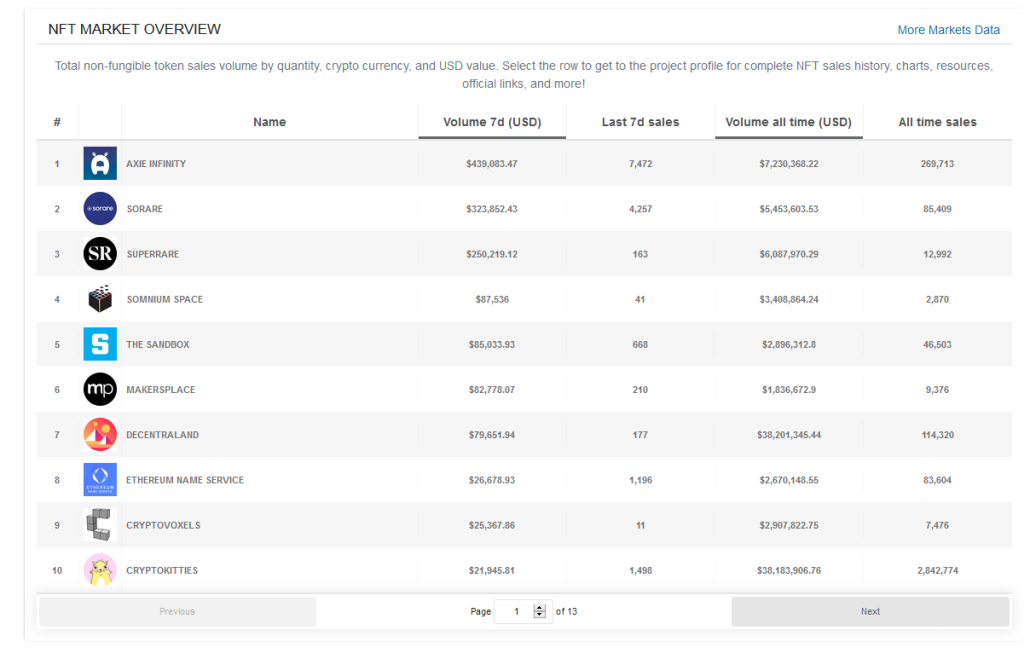 Meaning you can also follow transactions happening in blockchain-based games such as Axie Infinity and not just crypto artwork. Given you have all the market sales data at your fingertips, this is a great way to check your buying or selling at a fair price.
More tools will come?
We hope you enjoyed reading through our round up of tools for NFTs and CryptoArt Analytics. It is a very new field! If you're used to rich resources found to analyze your crypto trading or DeFi portfolios – then you can see it's a field that is lacking. The positive to draw here is that the cryptoart and wider NFT ecosystem is large enough that these types of statistical analytics are interesting, and tools are sought after.
So we expect to see more tools being released in the future. Cryptoart.io and CryptoArtPulse will integrate more NFT marketplaces as they grow, providing more data and insights. And we will undoubtedly see the release of tools that specialize in tracking other forms of NFTs such as Don't Buy Meme or Alpaca City, projects that overlap with DeFi protocols. Exciting!